This week, Norwegian Cruise Line announced that passengers in the United Kingdom and Ireland would be able to purchase what is being touted as an All-Inclusive Package on all ships across the fleet. But the big question is whether or not that same option could be offered in the States down the line.
The Deal
As of April 6, Norwegian will be offering Premium All Inclusive packages — which would include most beverages and gratuities rolled into the price of the cruise — to those booking in the U.K. and Ireland. Those staying in suites or the Haven also receive a dining package, 250 minutes of free internet and $100 of onboard credit. Asked whether this same package could be purchased by U.S. citizens sailing out of the U.K. or Ireland, a spokesperson said that wasn't the case. "U.S. guests sailing in Europe would still book here, and so would have our current Free at Sea promotion available to them," they reported. "The all-inculsive is really available for guests booking in those countries." 
Could The States Be Next?
In announcing the overseas offer, Frances Riley — senior vice president of Norwegian's international division — said, "In recent years, we have upped our game with our ships and with our hardware. This is now about innovating the experience for our customers." The move was made, he explained, to help Norwegian compete with the sorts of all-inclusive holidays available to those taking land-based vacations.
The big question: Could this be coming soon to our shores?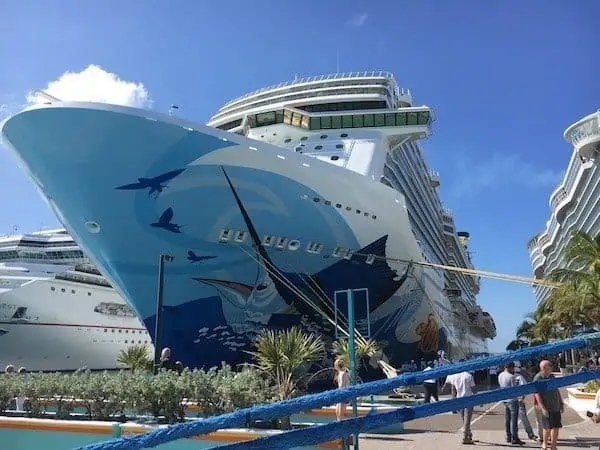 Certainly, the line has played with the concept in the past. In fact, back in 2014 the line made a very similar move under then-CEO Kevin Sheehan. "Always an innovator," he said at the time, "we are making it easy for those that want everything included in their cruise vacation with the option of our All-Inclusive package. At the time, the package offered the Ultimate Dining and Beverage packages, a $200 per person shore excursion credit, pre-paid gratuities, 250 minutes of internet per person, 20 photos, a Bingo session and more.
Asked if perhaps a similar package might eventually be offered in the States, the spokesperson responded with what might loosely be translated as a "we'll see."

"With Norwegian Sky already being all-inclusive," the spokesperson said, "and Free at Sea offering many amenities included in the rate, I think you're seeing the product move towards a more inclusive model."
Would you like to see cruise lines offer all-inclusive packages?