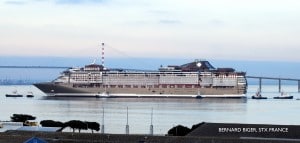 MSC Cruises officially announced their 13th ship on Tuesday, MSC Preziosa. The 139,500-ton MSC Preziosa will be the fourth ship in the series of Fantasia-class ships.
"The new ship represents an investment of €550 million and will be delivered at the end of March 2013. Negotiations with STX France have lasted over nine months; a significant but understandable period of time considering the importance of the investment and the
unexpected nature of the takeover," said Mr. Pierfrancesco Vago, CEO, MSC Cruises.
MSC Preziosa will boast 1,751 staterooms, 17 guest elevators – including a private elevator for MSC Yacht Club guests – and 14 guest decks. Guests will be able to enjoy four main restaurants, including two specialty restaurants, 21 bars, a casino, four swimming pools,including an infinity pool, 12 whirlpools, mini-bowling, a sports area with game courts, a Fitness Center, a children's area and the superb MSC Aurea Spa.
MSC Preziosa will be delivered March 2013.
Source: MSC Cruises
Subscribe to our Cruise News Updates.