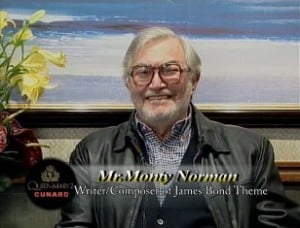 Last week, Monty Norman, composer of the legendary James Bond theme and the full music score for the franchise's first film, "Dr. No," enjoyed his inaugural Transatlantic Crossing aboard Cunard Line's Queen Mary 2.
Mr. Norman, whose theme song has been heard on 25 Bond films, recently attended the world premiere of the latest installment, "Skyfall," at the Royal Albert Hall, where he received a standing ovation for his work.
When asked how he enjoyed his voyage, Mr. Norman said, "Marvellous! I've never been on a Crossing, but will certainly do it again."
"For more than a century, some of the world's greatest legends have found comfort and adventure aboard Cunard's ships," said Peter Shanks, president of Cunard Line.  "We're pleased that Mr. Norman found the same in his experience on board his first Transatlantic Crossing, and we warmly welcome him into the Cunarder family."
"Skyfall," the twenty-third James Bond film, debuts in the U.S. on Friday 9 November 2012.
Cunard's legendary Transatlantic Crossings reflect the pinnacle of adventure and civility in ocean travel.  Queen Mary 2 is the only liner offering regularly scheduled Transatlantic service, ranging from seven-day voyages between New York and Southampton, England, to eight- and nine-day Crossings offered to Hamburg, Germany.  Travel aboard Queen Mary 2 offers the ultimate luxury cruise vacation, rich in classic British traditions, fine cuisine and stimulating on board enrichment.  This year's season includes several new offerings, such as new theatrical productions, jazz music workshops, lecture programmes, dining menus and spa treatments.
Source: Cunard
Subscribe to our Cruise News Updates.