As suite guests, we were invited to tour the galley, bridge, and backstage behind the production shows. That required that we be up earlier than usual so that we could get breakfast beforehand.
We first met in the Coral Theater where the Dance Captain and the Voice Captain talked to us about how they're trained, hired, etc. Then we went backstage and saw their costumes, sound equipment, and other set supplies. It was interesting!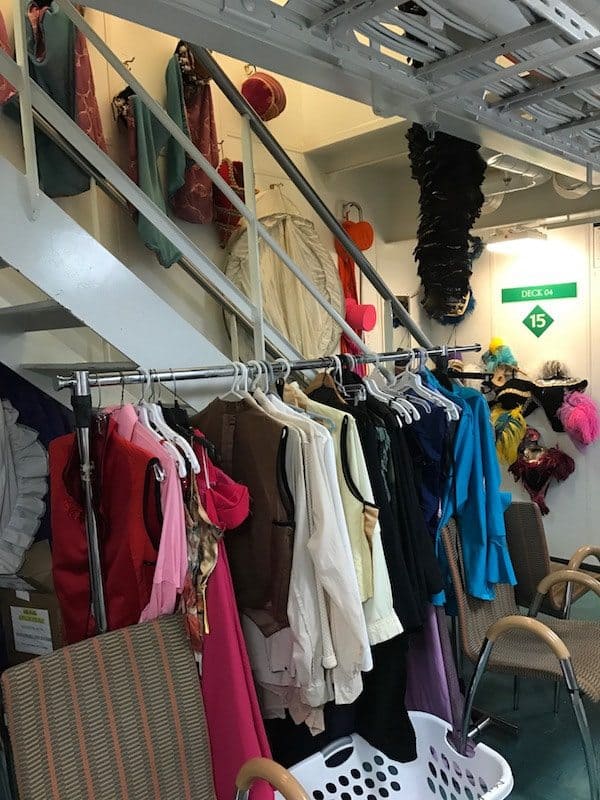 Next, we went to The Tides dining room to the My Time Galley where we got to see all of the different prep areas. When I say this place was clean, I mean it was the cleanest commercial style kitchen I've ever seen. We could have eaten straight off of the prep table, it was that clean. They have 90 cooks that work around the clock for all of our mealtime needs, including 24/7 room service.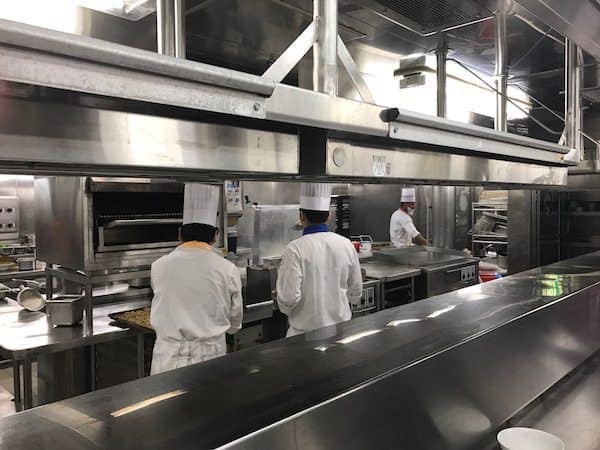 The bakery section smelled like heaven. All of the bread is freshly made daily. They can make 50 sourdough rolls in less than 5 seconds using some of the machines they have! For people who have restrictive dietary requirements, they make a selection of gluten free and dairy free bread options daily as well.
From there, we moved to the specialty Italian restaurant called Giovanni's Table. We were invited to a reception/cocktail party to meet all of the officers. They had sushi, shrimp cocktail, chocolate covered strawberries, mimosas, Bloody Mary's, and more. It was really nice!
Afterwards, we had a few hours to kill before it was time for the bridge tour so we relaxed in the atrium and did some people watching. You really can't go wrong with people watching. I do it like it's my job!
The bridge tour started at 3:30 pm sharp. We gathered on deck 10 forward and were scanned with a wand prior to entry into the bridge. They didn't allow us to bring any bags in but did allow cameras for photography only, no filming. The bridge is so cool. It has a calming feel to it despite the fact that the entire ship's safety is in the hands of one person, the captain. Our captain happens to be a woman! She's one of only five women in the Royal Caribbean fleet. Talk about girl power! She was there when we toured so we were able to take photos with her and ask her a few questions.
Once all of our tours were through we tried our hand at some slots, did some more people watching, and went to the farewell dinner show. It was another comedian named Tim McTigue and he was pretty funny!
Tomorrow is debarkation day and while I'd love to stay another week, I also can't wait to get home. The process for getting off the ship is really easy. We have to have our luggage outside our stateroom by 11 pm with the appropriate tag attached. The concierge gave us all of the necessary tags we needed as well as a paper with directions on it. So, it's all well spelled-out and easy to understand. We just have to make sure we have anything we need to get ready in the morning with us, since our luggage will be taken to customs.
There will be one last breakfast in the dining room before we get off and head to the airport. We chose a flight around 2-3 pm in the afternoon so that we would have ample time and not be rushed.
This cruise has been one of the better vacations I've taken. I would absolutely recommend Royal Caribbean as well as Jewel of the Seas. You will not be disappointed!
Until next time…stay traveling!