This week Lauren is sailing Royal Caribbean's Jewel of the Seas, a seven-night cruise from San Juan, Puerto Rico. This cruise will stop in St. Thomas, USVI;  St. Kitts, Antigua,  St. Lucia, and  Barbados. 
I'm no rookie when it comes to cruising, but in all of the sailings I've been on I've yet to stay in a suite. This time around we went for the gold and booked a grand suite on Royal Caribbean's Jewel of the Seas. To say the suite is an upgrade would be an understatement. I'm used to the roughly 140 square feet of an interior cabin where storage space is at a premium! The grand suites are much larger and have all kinds of storage. There is a bar, 3 closets (where are my fashionistas at!?), a luxurious bathroom with a full-sized tub, a spacious balcony with a lounging chair, and a couch that pulls out into a bed!
Perks
One of the perks of booking a suite is priority boarding and early luggage arrival, which we took full advantage of.  We boarded as soon as we were allowed to: 12:30 pm local time. We didn't have to wait in any of the long lines and were checked in, unpacked, and heading up to the Windjammer in no time!
We strolled around the ship doing some people watching and settled in the concierge lounge with some free drinks and tapas. And yes, that's another perk of being in a suite.
Safety First
Maritime law requires all passengers to attend a mandatory safety drill. Ours was held at 8 pm outside on the deck with the warm Caribbean breeze. One of the perks of sailing from San Juan is a later departure; this gives you plenty of time to explore Old San Juan.
Dining
We chose the late seating dinner time so we were getting hungry! The Tides dining room is beautiful with the Christmas decorations all lit up. As always, the waiters are enthusiastic and fun. The service team was fairly good – the only exception was one of the assistant waiters; this was his first sailing, so I gave him a pass. I went with the New York strip with mushrooms, wilted spinach, and potatoes. It was delicious.
Entertainment Sample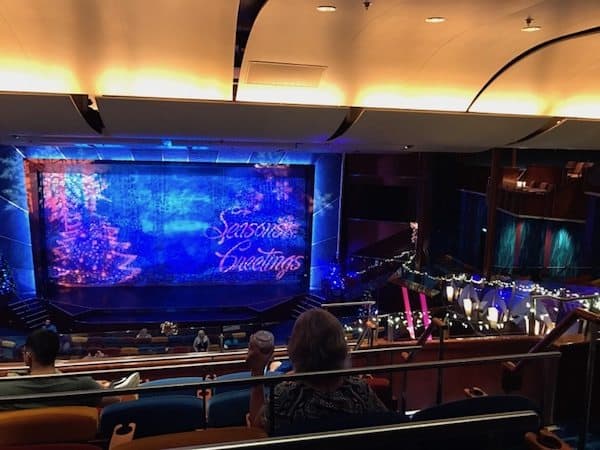 To end our first day, we went to the Welcome Aboard show in the Coral Theater. It was a sampling of the various entertainment available during this sailing. It included a singing and dancing number followed by a comedian who had us in stitches! As suite guests, we had a designated special seating area so we felt extra fancy.
All in all, day one was a huge success. I can't wait to wake up tomorrow in St. Thomas!
You can find Lauren's travel blog at weekendwayfarer.wordpress.com.