It's 7:45 am and I start to panic for a brief second, that I've overslept my alarm. Then I remember where I am… St. Thomas! A quick peek out the balcony window and it's confirmed. I'm in paradise! A cup of coffee and some fresh fruit outside on my own personal deck is pure bliss. We've docked in Crown Bay and I can hear the town starting to wake up. Nearby private boats  are starting their engines; dock crews are working diligently to ensure our ship is properly anchored and ready for passengers to depart.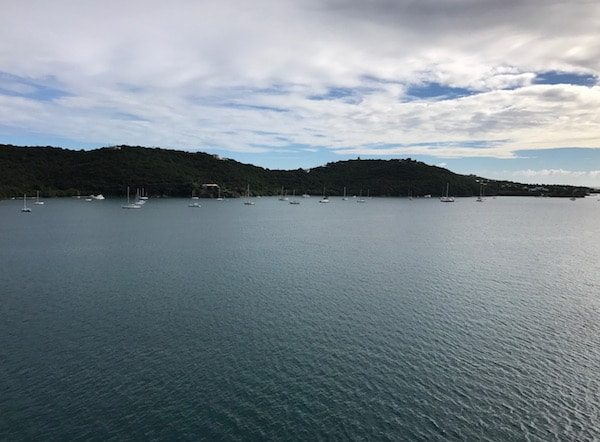 As suite guests, we have the option to enjoy our breakfast in one of the specialty restaurants, Chops Grille, rather than in the main dining room. It's the same menu that everyone else gets but you're in a much quieter and private space. I just love how no matter which dining option you choose, the wait staff always asks your name and will refer to you by it for the remainder of the cruise. It's such a nice personal touch! I ordered the scrambled eggs with cheese, turkey sausage, hash brown potatoes, and wheat toast. There was also a small fruit and pastry buffet as well. Fresh squeezed orange juice (for a fee) and some coffee had me ready to take on a day of exploration in Charlotte Amalie!
When getting off the ship, it's always a good idea to take your passport and ID with you in the event that you misplace your SeaPass card. Nobody has time for delayed access back on the ship!
We walked through the port side market and found our way to the taxi line. We chose to take a taxi to the downtown area versus booking an excursion, as St. Thomas is supposed to be one of the shopping capitals of the world. A van of 5 people cost us $20 plus tip, which wasn't a bad deal at all! It was so strange because they drive on the left side of the road here. I may or may not have had a couple of mini strokes at various busy intersections. Once we arrived safely downtown, we didn't waste any time finding our way to the shops; Tiffany & Co, Rolex, and all sorts of other high-end boutiques were lining the street for what seemed like miles. For those of us who have a more modest budget, there were also many mainstream stores such as Pandora Jewelry and Alex and Ani. What made this so much fun was all of the strategically placed bars and restaurants. Shop a little, drink a little… snack and repeat.
After about 5 hours of walking and shopping (it's a sport, people!) we were ready to head back to the ship and relax. Debarkation was just a couple hours away. A short cat nap and a shower later, and it's time for the first formal night of this sailing.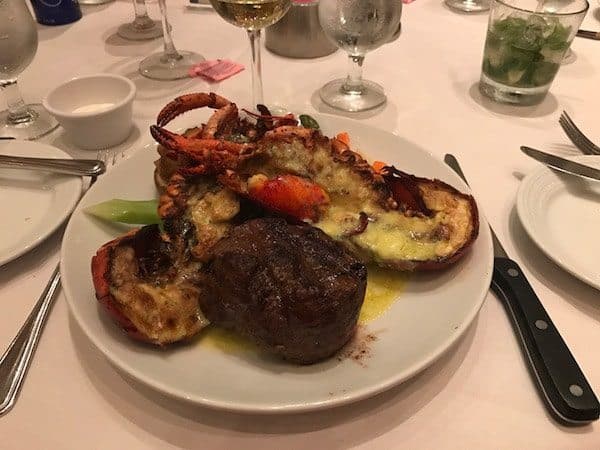 It's always fun to see everyone all dressed up for formal night. You will see anything from full prom dresses to short sequined numbers on the women and sport coats to tuxedos on the men. The main dining room menu is usually a notch above the norm and included an option to order filet and lobster from the specialty restaurant, Chops Grille. I went for it and was not disappointed. The filet was cooked to perfection and the lobster was huge! I was expecting only the tail but instead got the entire lobster. Dessert did not disappoint either.
Tonight's show was a two-man comedy in the Coral Theater. It was just okay for me, but fun nonetheless. I can't wait to see what excitement St. Kitts will have in store for us tomorrow!
You can find Lauren's travel blog at weekendwayfarer.wordpress.com.