It's day 3 and we're off to the races! We booked an excursion for today so we didn't waste any time getting ready to go. The excursion we booked was a catamaran ride over to the sister island of Nevis with some lunch and beach time. We had to be off the ship and in the meeting place by 10:15 am in order to catch our group, so after breakfast we made our way down to the gangway.
Once we met up with our group, they led us around the corner to where the marina is to catch our boat. This catamaran was huge! It had an 80 person capacity but we only had 60 people in our group so it didn't feel crowded at all, which was nice.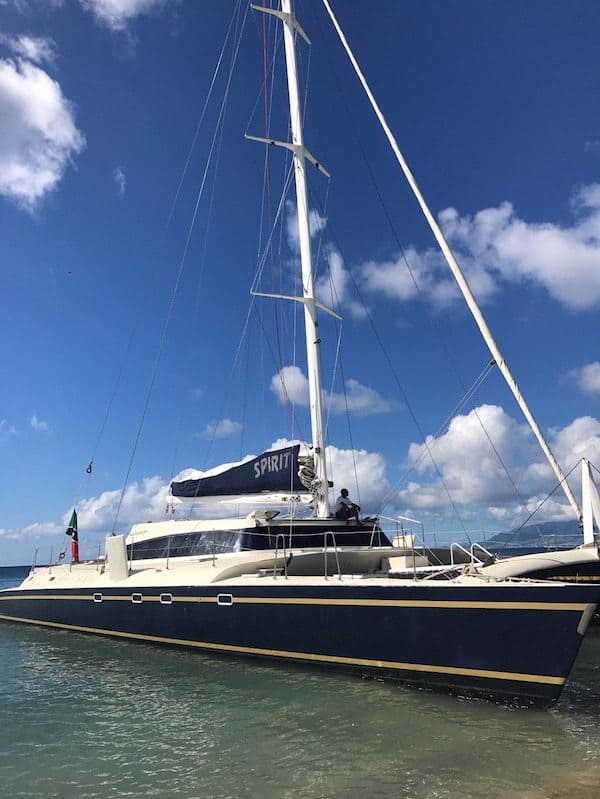 I'm a big fan of boats and being on the water, so I was loving it. The ride to and from Nevis was about an hour and a half long each way but there was an awesome breeze and the views were breathtaking – not to mention the open bar. The beer that I have seen the most down here is called Carib. It's a lager and is actually very good! It's light and refreshing and hit the spot in this hot Caribbean sun.
Once we got to Nevis, the Captain guided our boat right onto the beach. It was pretty cool. We hopped off and went straight to the buffet. The locals had BBQ chicken, hot dogs, and a few different salads like pasta, coconut, and vegetable; it was really good. We had about and hour to spend on the beach before it was time to head back. Some people were doing some snorkeling and others were sunbathing. We chose to hang out around the boat, beer in hand. The sun is significantly hotter down here than in the states, so I stayed close to any shade I could find. The ride back to port was as nice as it was going out and I would definitely recommend this type of excursion to anyone. They usually run anywhere from $100-150 per person, but are well worth the cost in my opinion.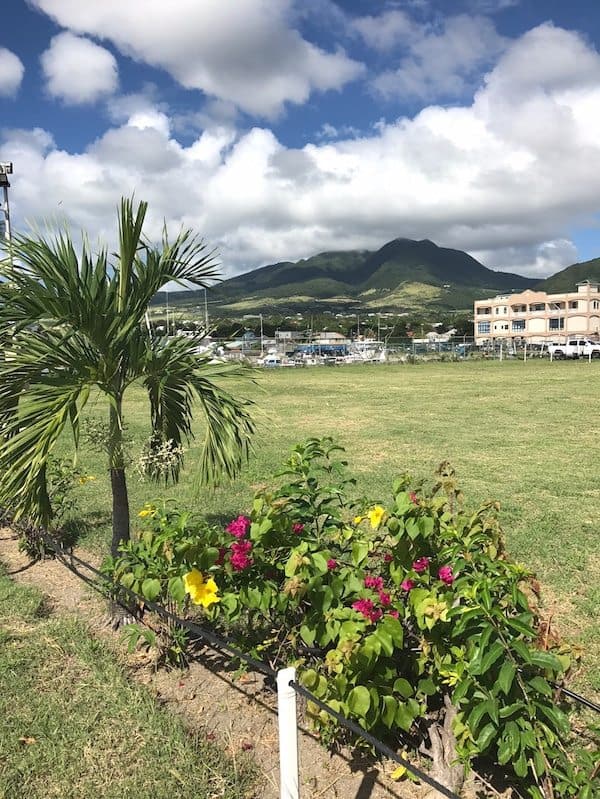 Tonight's show was actually a pre-dinner performance by the singers and dancers called City of Dreams. It was a mashup of both old and new music with various city backdrops. To be honest, it wasn't that good, so we snuck out the back and went to the casino. Don't tell anybody!
The casino has your basic poker, craps, and roulette tables with a bunch of assorted slot machines. I lost $10 in about 2 minutes on the slots so I was over it pretty quick. But it's still fun to watch other people who are winning!
Dinner was at 8:30 followed by some perusing through the shops before the late-night adult comedy show at 11:15 pm. This comedy show was hilarious! The comic's name is Kivi Rogers and I will definitely be looking him up when I get home. I would love to see one of his shows stateside.
By this point it's after midnight and I'm exhausted from a long day in the sun. Tomorrow's port is Antigua and I'm looking forward to seeing what it has to offer!
You can find Lauren's travel blog at weekendwayfarer.wordpress.com.