This morning we woke up in Antigua and were expecting to see this gorgeous tropical view, but instead were greeted with a view of another cruise ship. Both ships were docked right next to each other so they were blocking the view from our balcony. From what I could see though, St. John's looks like it's a pretty cool city versus your typical cruise port with random souvenir shops and Diamonds International stores. Right off the bat I can see a big beautiful church with stained glass windows off in the distance.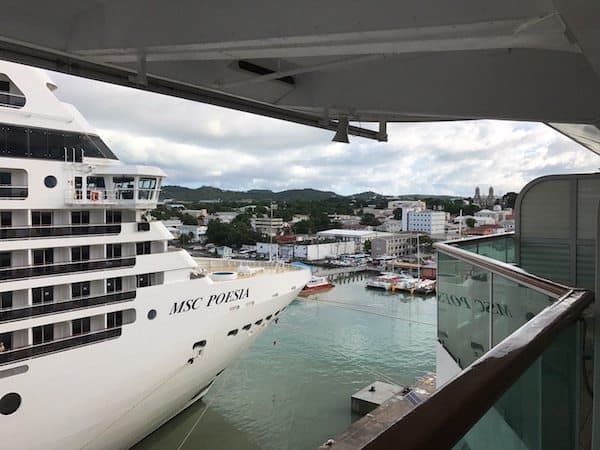 We didn't have anything planned for today so we decided to go into town, grab a cab and head to one of the 366 beaches on this island. Yes, 366 different beaches!
Here's a fun fact for you: in 2013, Antigua banned any wearing or selling of camouflage clothing due to reported attacks by people impersonating the military. That's crazy!
Our first order of business was finding a convenience store for some sunscreen. Once we found some we had sticker shock; it said $40.80 for one bottle of spf 30! I confirmed with the cashier that this was in Caribbean dollars, not USD. It turned out to be about $16US for the bottle, which is still very high but we had to go for it. Walking into town was a little rough as the locals are very aggressive here. Tourism is their livelihood so I can understand to a point, but this was a bit much. We were a little creeped out and had to dodge people left and right. We came across one local who seemed less aggressive and decided to go with him for a ride to one of the beaches. We originally wanted to go to Turner's Beach but he recommended Nest Beach so we went with that. I'm glad we did because it was absolutely beautiful! To me, it was the exact image that I have in my head when I think of the Caribbean. The brightest, bluest waters I've ever seen with rolling mountains around us, a chair, an umbrella and a tropical drink in hand. With the sound of waves crashing against the beach, we were relaxed in no time.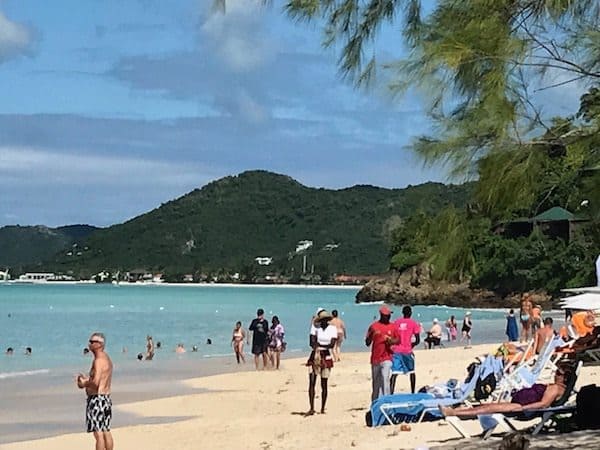 The bar staff were walking up and down the beach offering food and drinks and I noticed one of them was carrying a whole live lobster! It reminded me of my brother and scuba diving in the Bahamas. He was all about catching (and eating) lobsters.  A few different local women were walking by selling handmade jewelry as well as scarves/sarongs. I found an anklet that I liked and went for it. When in the Caribbean, am I right!?
A few hours later, we were ready to head back. When we were dropped off we made arrangements with the cab driver to come back around 2 pm to pick us up, so he did. Round trip for 5 people was only $50 plus tip. It was roughly a 15-20 minute ride each way so that wasn't bad at all.
We got back on the boat and were ready to eat some lunch. Windjammer, here we come! My favorite part of the Windjammer is the chocolate and vanilla swirl ice cream cone because…ice cream!
Since we ate a late lunch, we were all pretty full after dinner and couldn't stay awake for the Love & Marriage show. It's like the Newlywed Game but with couples who have been married various lengths of time. They will televise it on the ship later, so I'll catch it then.
Tomorrow we're in St. Lucia. I've heard it's the most beautiful island so I can't wait to check it out!
You can find Lauren's travel blog at weekendwayfarer.wordpress.com.