So, the port of Bridgetown is pretty sad. It's more of an industrial port and looks very run down. The weather predicted strong winds of 20-30 mph so we decided against a boat ride to the snorkeling reefs as we get seasick easily. Instead, we took a taxi to Payne's Bay, one of the "best beaches" according to the locals. The water was very pretty but the beach was crowded. We were told it has the best snorkeling conditions as well, so we gave it a try.
Beach Time
The drive over was fairly quick; it only took about 10 minutes from the port. It was much hotter here than the other ports of call so we definitely sprung for an umbrella and chairs. It was only $12 for one chair and one umbrella. We were a little disappointed as there was really no wind. There were also a ton of boats, jet skis, etc. very close to shore and getting super close to the people in the water, which made us a little nervous. The beach itself, though, was nice with the exception of the rocks and seashells at the waterline. It was pretty painful to walk into the ocean but once you got past the rocks it was totally fine. The water felt great too!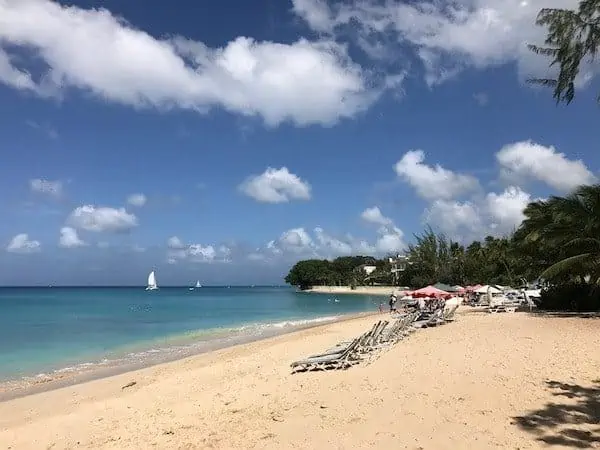 I tried to snorkel but was too afraid to go very far off the beach by myself, so I stuck close to shore. The sand was pretty stirred up so the water, while it was the prettiest color blue, wasn't very clear near the beach. Further out, where the bigger reefs are, there were some turtles. We could see them popping their heads up out of the water.
The beach bar was offering a bucket of 6 local beers for $20 and would give you $5 back if you brought all 6 bottles back to them. I think this was to try and help keep the beach clean, which I'm all for! The local beer in Barbados is called Banks and it tastes very similar to Carib, which is what we've seen the most of down here. On a day as hot as it was today, anything cold and wet would do!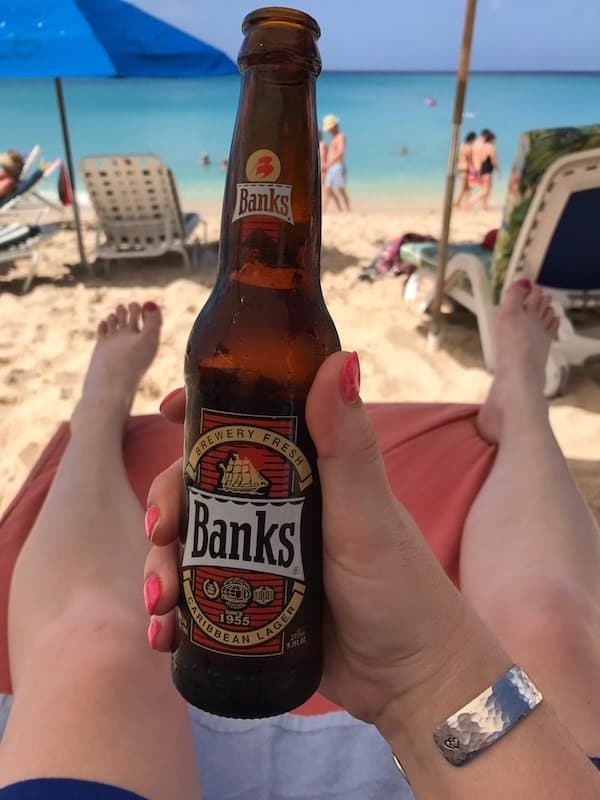 Formal Night and a Show
After a few hours we were ready to head back so the taxi picked us back up and charged $15 per person round trip. So that was a great deal overall; only $7.50 each way per person. Once we got back on the ship we ate some lunch, took a nap, and got ready for the 2nd formal dinner of this sailing. We caught the pre-dinner headliner show called "West End to Broadway" and it was actually one of the better production shows on this ship so far. There were several costume changes as well as props and dance numbers. The music wasn't amazing, but overall I enjoyed it.
Tonight's formal dinner menu had lobster tail on it, so I'll give you a guess as to what I ordered. It was so rich and buttery and melt-in-your-mouth good. I followed that up with some Baked Alaska and was stuffed to the brim. We walked around the casino and the shops for a bit before calling it a night.
Tomorrow is a sea day and we've been invited to do backstage tours of the production shows, the bridge, and the galley. I'm really looking forward to that and possibly meeting the captain!
You can find Lauren's travel blog at weekendwayfarer.wordpress.com.