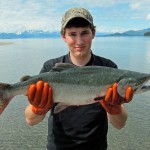 Visitors to Juneau who want the quintessential Alaska fishing experience without stepping foot on a boat can now do so now with Chum Fun Charters. The Alaskan-owned charter company offers 2-3-hour fishing excursions offering visitors the chance to cast away on the beach for a variety of wild salmon, including king, chum, pink and silver, depending on the season.
Chum Fun Charters offers four daily tour times for visitors from a convenient downtown location near the cruise docks and includes transportation to and from the fishing area as well as boots, fishing poles, lures, nets and a fishing license.
The shorter fishing excursions allow cruise passengers and other visitors to spend more time exploring the town of Juneau. The tour runs May through September and has a flat rate of $175 plus sales tax per person.
A variety of companies offer Juneau fishing charters and it's a great way to check out the Alaska sea-life.
Subscribe to our Cruise Updates.
Related articles