Norwegian Cruise Line has officially announced the godfather of their purpose-built ship for China.  Mandopop artist Wang Leehom, the "King of Chinese Pop" will serve as godfather of the 3,850 passenger vessel Norwegian Joy. 
Along with serving as godfather, Leehom will also represent NCL China as its brand ambassador, introducing the cruise line to Chinese consumers through a variety of platforms, including television, radio, and social media.  Leehom will be only the second godfather in Norwegian Cruise Line's history, joining hip hop artist Pitbull, who is the godfather of Miami-based Norwegian Escape.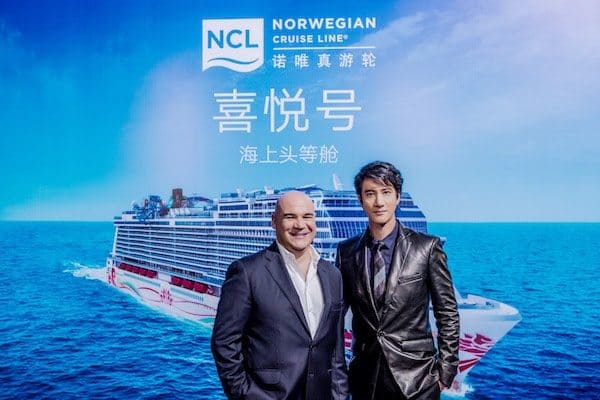 A Chinese-American singer/songwriter, music producer, actor, and film director, Wang Leehom is known as the "King of Chinese Pop" for his wide range of musical styles that blend pop, rock, jazz, hip hop, R&B, classical, and traditional Chinese music.  His collaborations have included work with Tony Bennett, Avicii, Usher, Lang Lang, and JJ Lin, and he's performed in over 100 cities around the world.
"I'm honored to have the opportunity to share the cruising lifestyle with Chinese guests as Godfather of Norwegian Joy.  Cruising is an exciting way of experiencing travel and leisure that I'm thrilled to be sharing with China," said Leehom.
Norwegian Joy will arrive in summer 2017 and homeport in Shanghai and Beijing.  For more information on the ship, visit this article on dining aboard the ship, and this article on staterooms and entertainment.