Anyone who's ever been to a city parade with gigantic balloons floating down the street knows how cool and spectacular they are to see up close.
On July 30, onlookers at the Alaska Airlines Seafair Torchlight Parade in Seattle had the pleasure of seeing a balloon version of Holland America's newest ship, ms Koningsdam.  It was just one of over 100 floats that took part in the annual event.
The 45 foot long, 11 foot tall float required 30 employees to guide it through the streets of the city along the 2.5 mile route.  Holland America was also a presenting sponsor of the parade, and employees of the cruise line carried a banner and wore shirts that read "Anchored in Seattle," where Holland America is based.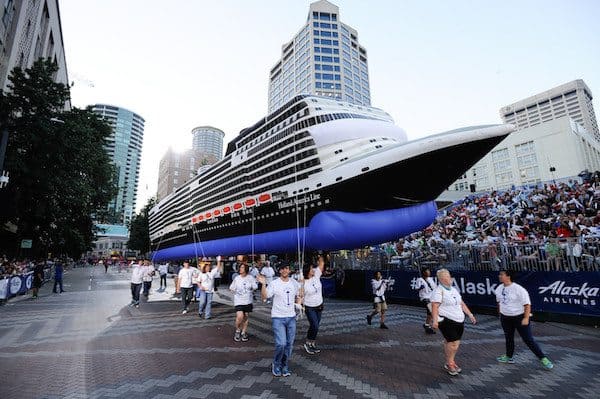 In previous years, Holland America employees carried an orca whale balloon in the parade to highlight their popular cruises to Alaska.  This year, they decided to highlight the newest member of the family – Koningsdam, which was launched in April.
Three of the cruise line's ships are sailing from Seattle weekly this summer.