Holland America Line held a dedication ceremony this past Friday for ms Koningsdam is Rotterdam, the Netherlands.  Her Majesty Queen Máxima of the Netherlands officially blessed the bell and named the ship in front of dignitaries, cruise guests, travel partners, and media.
The celebration began when the Queen blessed the ship's bell by pouring a glass of champagne over it – the act has long been a tradition of Holland America's whenever they welcome a new ship to the fleet.  The Queen was also the first to sign Koningsdam's commemorative wall that will become a permanent part of the ship.  Next, the ship was christened during a ceremony in the World Stage theater when the Queen pulled a rope to trigger the champagne bottle break on the hull.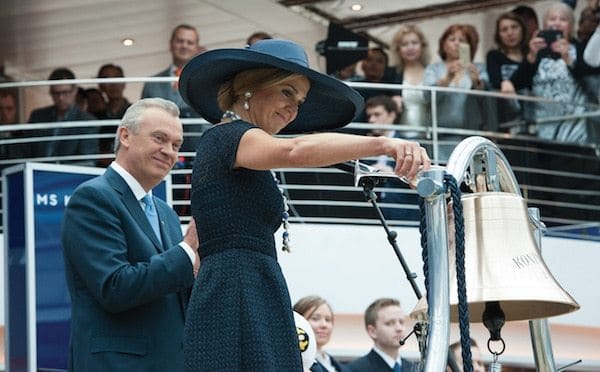 Another tradition of the cruise line's is appointing Mariner Ambassadors to represent the role of repeat guests in the company's success.  Koningsdam's ambassadors are Enrique "Rick" Encarnacion and Ernest Schenk.  The have both sailed over 1,650 days each aboard Holland America's ships.
Following the ceremony, a gala luncheon was held onboard, as well as other celebrations throughout the day.  When evening came, the ship set sail for Amsterdam, and fireworks lit up the sky as Koningsdam passed Hoek van Holland.  Thousands of Dutch residents came out throughout the day to join in Holland America's festivities.
ms Koningsdam will spend her inaugural season in Europe before setting sail for Florida, to homeport at Port Everglades for Caribbean voyages from November 2016 to March 2017.