Here is part two of my cruise ship wedding experience series!  If you missed part one, you can click on over here to read it.
The Wedding Day
Since we only live ~1 hour from Galveston, my bridesmaids and I met at a hair salon at 6:00 am to have our hair and makeup done. I'm blessed that my groom's father's girlfriend (my de facto mother-in-law) also happens to be my hairdresser, so she had offered to open the salon she works at early that morning for all of us to get ready. The lady that I hired for our makeup met us there as well. Despite the early 6:00 am start, it was a very relaxed morning, and the girls and I were all smiles while munching on granola bars and sipping coffee. The plan was to leave at 8:30 to be at the cruise terminal at 9:30 (our scheduled arrival time), but the makeup artist ran a bit late, so we didn't leave until 9:15.
We got to our parking lot (81st Dolphin Parking) around 10:00 and were in the terminal by 10:15 once we were shuttled over. We had a minor setback since apparently the lines for priority boarding, which are at the far end of the terminal, don't have porters. A Carnival employee told me we had to walk back down – a good 100 yards away – to drop our luggage off with a porter. Luckily, one of the groomsmen ran down a porter and made him come down to the end of the terminal to help us, although the Carnival employee reminded us several times we weren't supposed to do that. But no way were we hauling all that luggage all the way back through the crowds of people! (And don't worry; we tipped the porter well.)
Checking In
Our misstep with the luggage took up more time than it should have, and by the time we got through security it was about 10:45 (we were supposed to be there at 10:00… oops). As soon as we got upstairs to our private waiting area, I saw most of my wedding guests already waiting. I thought I would have this time until we boarded to mingle with them, but as soon as we got upstairs our three wedding coordinators helped us check in for the cruise at a private desk and then whisked my groom and I away to a quiet corner.
There, they went over all the details of our ceremony and reception with us. We really appreciated this, because they had a lot of questions for taking the family portraits, and we got to use this time to explain our crazy family dynamics (both my husband's and my parents are divorced) and who would be escorting who down the aisle, etc.
Once thing I wasn't expecting was for the coordinators to ask what our drink of choice was. My groom said scotch and I said a mojito… and you'll see why this is important in a bit!
Before the Ceremony
Once the ship was cleared by US Customs and Immigration, our party was the first to board the ship – even before Platinum/Diamond cruisers, suite guests, and Faster to the Fun! cruisers. In fact, I was the very first guest on the ship, which was pretty cool. When Carnival announced the boarding of the wedding parties, the entire terminal erupted in clapping and cheers, with many people standing up get a peek at us. We felt like royalty during that short walk through the terminal, flanked on each side by cheering strangers, and at that point the whole "I'm actually getting married today" feeling finally started to sink in.
Once onboard, my groom and I were separated and one of the coordinators led me to our stateroom to get ready. (Make sure you carry on everything you need for the wedding, including your dress and any reception decorations, since you won't see your checked luggage until after the wedding!) My groom and his groomsmen were given another room to get dressed in.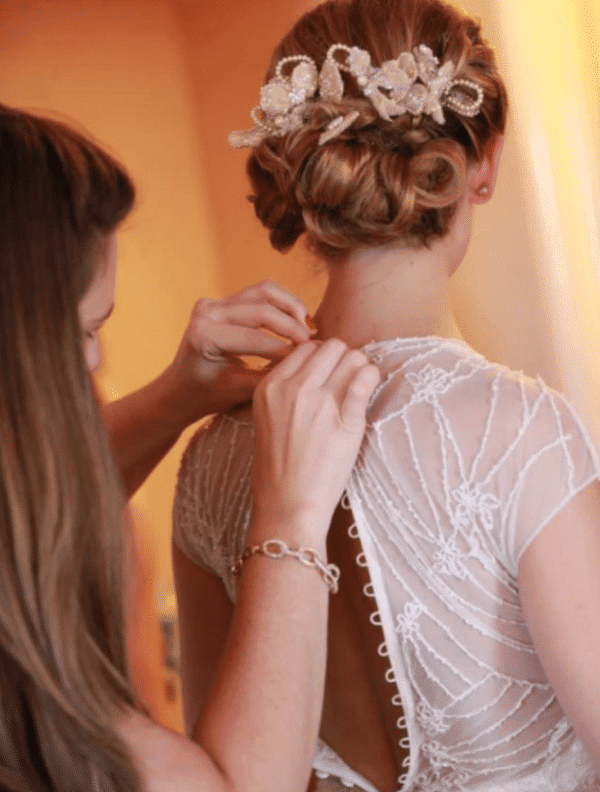 We had about an hour to get ready before the ceremony, which would start at 1:00 in the Victoriana Lounge (aka the theater). However, all guests were to be seated there by 12:40, and the wedding party was to do a quick run-through at 12:45 (without me, the bride) before starting.
Since our hair and makeup were already done, we spent the hour relaxing and chatting, with each bridesmaid (I had 4) slowly taking turns putting on her dress and jewelry. I was never nervous, but there were a few times I started to get a little emotional. Finally, our photographer Arsana came to the room and took a few photos of me getting ready and changing into my dress.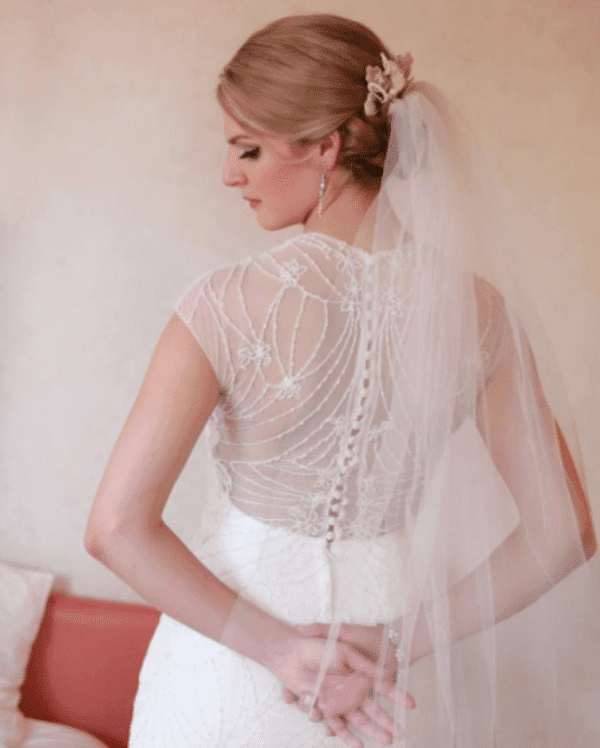 At that point, it was 12:30, so everyone else had to leave, meaning I was left alone with the photographer to take some solo bridal shots.
Then, it was time to go!
Ceremony
The ceremony was all but 15 minutes. One of the coolest parts was that one of the groomsmen who sings and plays guitar serenaded my dad walking me down the aisle to (a condensed version of) the song "Tenerife Sea" by Ed Sheeran. Carnival was so accommodating about this in the planning process and had the microphone set up and ready to go for us the day of the wedding.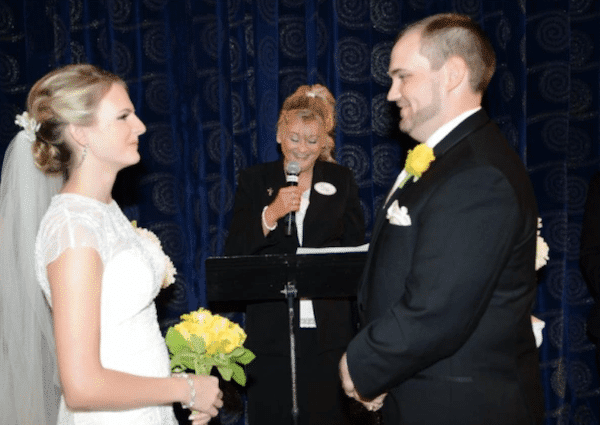 We said our vows, exchanged rings, and after a short prayer we kissed as husband and wife! We then exited the stage to the song "This Will Be (An Everlasting Love)" by Natalie Cole.
A bit awkwardly, as soon as we walked down the aisle, we were told to turn right back around and get back up on stage for some quick photos with the wedding party and family members. I knew we would be taking family shots between the ceremony and reception, but I was unaware that our guests would still be seated in the theater watching while we did so. I thought they would have already been heading to the Havana Bar for the reception. I felt guilty that they had to sit there while we took the photos, but luckily it didn't take more than about 10 minutes. Plus, after all our family shots were done, the photographer asked all guests to get on stage while he ran up to the deck above to get a group shot of everyone.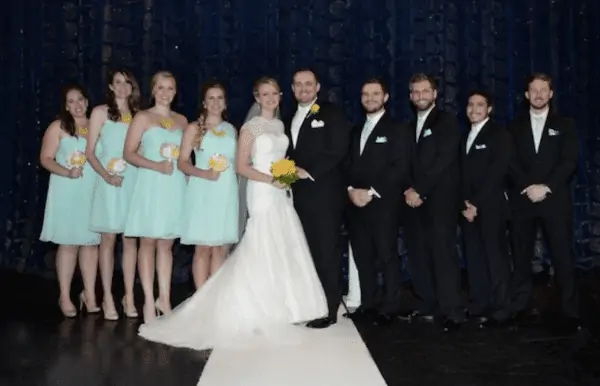 I would also like to note that it was during this picture-taking time that one of our wedding coordinators, Holly, just showed up with a mojito for me and a glass of scotch for Mike. I was so surprised and probably more excited than I should have been. But it didn't end there… Holly continued to keep showing up with new drinks for us about every 10 minutes throughout the reception, even when I hadn't finished my previous one. (I think the photographer missed that I wasn't actually finishing my mojitos, because towards the end of the reception he came up to me, gave me a look, and told me to stay relatively sober for the post-reception photos with Mike. I busted out laughing!)
For part three of my wedding series, click here!