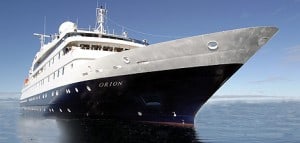 Lindblad Expeditions, the U.S.-based small ship expedition company that partners with the National Geographic Society for expedition cruising, has announced their acquisition of Orion Expedition Cruises, the Australia-based five-star small ship cruise line.
The 102 guest Orion will become part of Lindblad's existing fleet in March 2014, when it transitions to the National Geographic Orion, and will offer new itineraries designed to blend the interests of the U.S. and Australian markets with the incomparable experience of a Lindblad-National Geographic expedition. The acquisition will increase passenger capacity for Lindblad Expeditions by 18%.
"Following two straight years of record revenues, it was the natural progression for company growth," said Sven Lindblad, President and Founder of Lindblad Expeditions.
Orion's operations will continue to run out of the company's Sydney, Australia office.  Additional details regarding U.S. sales, itineraries and onboard experiences will be released in the coming months.
Source: Linblad
Subscribe to our Cruise News Updates.
Related articles