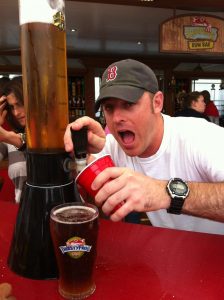 The last thing I wanted to do when I got off Carnival Liberty this past weekend was step on a scale, but I did, and to my dismay I gained 10 lbs. All my own fault.
Here are some tips to gain weight on a cruise:
Use the elevator
Drink a lot of beer
Eat lots of burgers from Guy's Burger Joint
Don't locate the gym
Eat and go to bed
Eat late and often as possible
Eat the midnight, Mexican, and pizza buffet after drinking
Pick shore excursions that requires minimal activity
Drink lots of 1,000 calorie frozen concoctions and shots
Now while I'm saying a lot of these tongue in cheek, I pretty much followed that blueprint to gain 10 lbs.
When I'm home I live and eat a pretty healthy and active lifestyle like  running daily, lots of salads, and not drinking.
My next sailing is coming up this weekend and I'm going to try to lose weight on this 7-night cruise. Can it be done? Stay tuned.
Source: Doug Parker/Cruise Radio