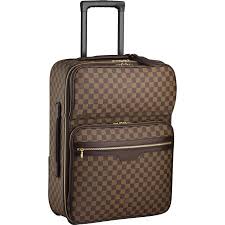 When you are on the way to your cruise vacation, the last thing you want to do is worry about carrying and checking luggage, or worse – delayed or lost bags. This is where Luggage Forward comes in. For cruise lovers, Luggage Forward is a smart alternative to lugging bags through the airport, waiting at baggage carousels or worrying about lost luggage. Luggage Forward is a doorstep to destination luggage shipping service that has been reliably serving the cruise industry for ten years.
Cruise travelers can have bags picked up from their home or office and delivered directly to their stateroom, whether it is a river cruise or traditional cruise. Luggage Forward services more than 200 countries and territories and can deliver bags to any cruise line in any port. Cruise lines including Uniworld Boutique River Cruise Collection, Holland America Line, Celebrity Cruises and Seabourn Cruise Lines have partnered with Luggage Forward to be their exclusive provider of luggage shipping services.
Checking a bag with an airline has never been convenient and now it's increasingly expensive.  Luggage Forward has made the process of shipping luggage simple and hassle-free. You can book via their mobile friendly website or over the phone. All you have to do is tell them where and when you want your luggage picked up and delivered and they will take care of the rest. You don't even have to be present at the time of pickup! Before your pick-up window, you just have to specify where your luggage will be located or you can leave it with a neighbor or doorman. Once it is picked up, it is monitored and tracked to ensure that it makes it to your final destination on time. Better yet, you can arrange your shipment up to 6 months ahead of your trip!
For international itineraries, Luggage Forward's team of international shipping experts will identify and complete all country-specific Customs documentation and work to ensure each shipment is cleared quickly and delivered on-time.
Pricing for the service is very simple and straightforward.  Rates are based on the size and number of bags you are shipping, where they are going as well as the speed at which you want your bags delivered.  The pricing is all inclusive; there are never any taxes, fees or surcharges.   Best of all, every bag shipped with Luggage Forward includes a full money back plus five hundred dollars on-time guarantee for each bag on all services worldwide.  Now, that's peace of mind you don't get with the airlines!
We have teamed up with Luggage Forward and they are offering a discount for Cruise Radio listeners who want to try them out. Check out the offer here.