Princess Cruises has announced the master of their next new ship, Majestic Princess.  Captain Dino Sagani will lead a senior officer team with over 100 years experience between them.  The relief captain appointed to the ship is Captain Craig Street.
Captain Dino Sagani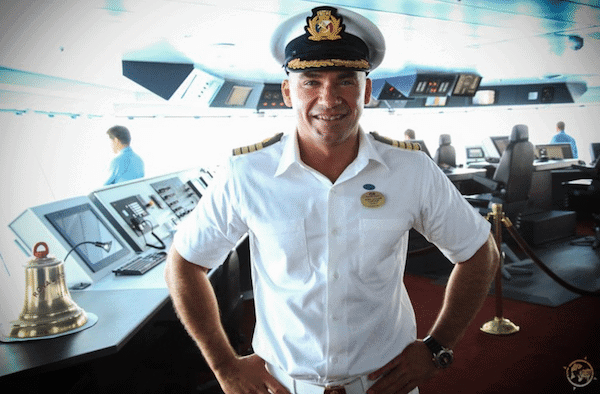 Captain Sagani has served onboard Princess ships for over 21 years, having commanded ships including Dawn Princess, Sea Princess, Diamond Princess, Sapphire Princess, and most recently was relief captain on Royal and Regal Princess.  Sagan was born in Trieste, Italy, and followed the family tradition of attending the Nautical College in Trieste.  After finishing his studies, he joined the Italian Navy, and served as a minesweeper during the first Gulf War.  After that, he joined Princess in 1995, and climbed the ranks and was promoted to Captain in 2007.
Captain Craig Street
Captain Street has commanded a variety of Princess vessels, including Golden Princess, Sea Princess, Caribbean Princess, Sun Princess, the former Royal Princess, and Pacific Jewel with P&O Australia.  Street has also brought three Princess ships into service from the same shipyard in Italy; Caribbean Princess, Dawn Princess, and Sea Princess.  Captain Street was born in Norfolk, England and spent most of his childhood growing up in Edinburgh, Scotland.  He joined Princess in 1990 and climbed the ranks to qualify as 3rd Officer in 1993.  In 2008, he was given the honor of first command for the Star Princess.
Majestic Princess
Majestic Princess will feature a lot of the same things as Royal and Regal Princess, but with different flares for the Chinese market, where she will be homeported year-round.  She will feature a multi-story atrium, an over-the-ocean SeaWalk, a special Chef's Table Lumiere, where guests will be surrounded with a curtain of light, and more.  Majestic Princess will carry 3,560 guests and debut in spring 2017.
Visit Princess Cruises at princess.com.