In early July I booked a cruise on Majesty of the Seas because I found a deal that I couldn't refuse for a summer time sailing to the Bahamas. I found a rate for $189 and instantly bought a guarantee room. I didn't care where my stateroom was, just that I was on the ship and Bahamas bound for three days. Turns out I didn't even get my stateroom assignment until a few days before sailing – but I was perfectly fine with that.
Pre-cruise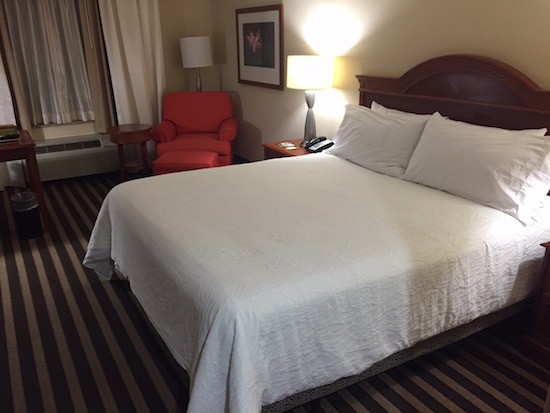 Even though I was driving I got a pre-night hotel in Fort Lauderdale because we had dinner with friends beforehand. We stayed at the Hilton Garden Inn Dania Beach. They have a cruise package (which we didn't use) and an awesome hot breakfast bar.
Embarkation
The night before we went to the cruise pier I got an email from Royal Caribbean telling me that we couldn't embark until 2pm. After asking about it, they told me they do that to stagger embarkation so everyone doesn't arrive at one time. We already had plans to get to the cruise pier at 12:30, so we stayed on course. They didn't say anything about it when we arrived early.
We parked our car, dropped our bags off with the porter, and went into the cruise terminal. Parking at PortMiami is $20 per night.
Check-in
The check-in process was super efficient. We went from curb to cruise ship in 15 minutes. We were sipping strawberry daiquiris within 30 minutes of parking the car. Providing you have the printed documents, your check-in will be flawless. We used a debit card. I didn't notice if there was a hold on my card or not.
First Impressions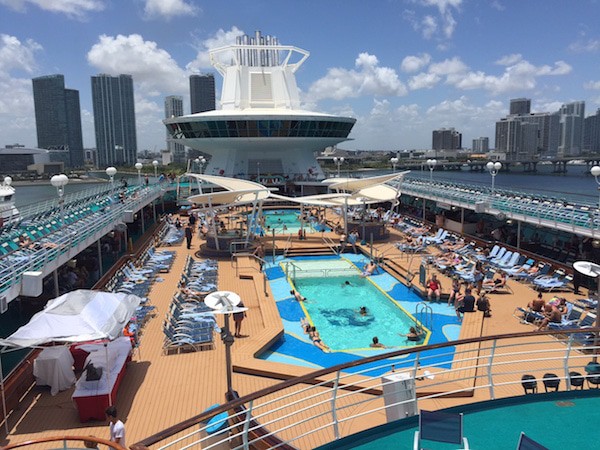 This was my first time sailing on Majesty of the Seas, but fifth time sailing a Sovereign-class ship. I sailed both Sovereign of the Seas and Monarch of the Seas years prior. The ship was dated but not run down by any means. There was a band playing in the atrium, their beverage packages for sale, and a line starting to form at guest services (assuming they were cash people).
Stateroom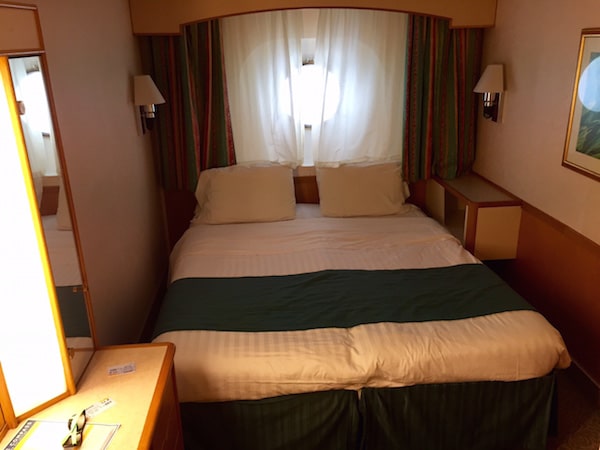 My guarantee inside room turned into an ocean view porthole room on deck 3 (cabin #3016).
The stateroom was pretty small. Like 120 square feet small but by no means uncomfortable, just a little smaller than I'm used to. Two beds converted to a Royal King and there was plenty of storage and a small table in the corner.
Dining
The dining aboard Majesty wasn't bad at all. There is the Windjammer Buffet, two main dining rooms, Sorrento's Pizza, Johnny Rockets, Compass Deli, and a makeshift Mexican restaurant.
In the Moonlight Dining Room we were assigned late dining at 9pm because we booked so late and anytime dining and the early dining were both gone. We couldn't even get waitlisted.
The dining assignment we were first issued was at a table for 10, so we asked the dining room manager to get moved to a smaller table. He moved us to a two top towards the back of the dining room.
Our server Michael was awesome in the main dining room and he was super fast. There was typical fare in the dining room: steak, seafood, chicken, soups, salads, and a variety of desserts.
Windjammer Buffet was pretty good. They were open a lot after lunch and before dinner for snacks. Don't let it fool you, there are two sides. When you first enter the buffet area it looks pretty small but it mirrors in the forward part of the ship.
Sorrento's Pizzeria was good too and served cheese and pepperoni pizza around the clock.
Entertainment
The entertainment aboard Majesty was decent for the three night sailing. There was a comedian juggler in the show lounge as well as a Boogie Nights disco type show.
Around the ship there were things going on from the band in the atrium, the piano bar, poolside activities, and you can't forget the popular Quest; the adults-only scavenger hunt on the last night.
There were also themed nights aboard the ship so you'll want to research that before you sail. One of them was a 70's night and the other was a white type party.
One of the best parts of Majesty is the connection you get with the water; deck 7, 11, and 12 are all open and an eyeshot of the water. Also, you can't forget the Viking Crown lounge high atop the ship that offers 360 degree views of the Caribbean. Perfect for snapping photos or enjoying a cocktail with views.
One thing I did notice is that the pool bars are super packed, but if you go up a deck, they have a makeshift bar set up that almost always had a short line.
Ports
Coco Cay
The private island of Coco Cay was nice because it was secluded and we were the only ship there. One thing I liked was that all purchases on the island could be done with your sail and sign card (with the exception of the straw market).
We rented snorkeling gear for $40 per person, a little steep but we got to swim over brain coral, an airplane reef, and see a lot of cool fish. There was also a treasure hunt where if you found one of the gold coins you got to spin a wheel for something free. Someone won parasailing when we were there, which was an $89 value.
The island had a nice BBQ feast with ribs, chicken, hot dogs, burgers, salad bar, fixin's and desserts. There was also plenty of water (they were pouring from bottles) and lemonade.
The fresh water showers were extremely helpful after spending all day in the water snorkeling.
This is a tender port so we were anchored from 8:30-5pm before we picked up and headed to Nassau.
Nassau
Nassau is a fun little island that I've been to a lot. But that didn't stop me from heading out on the ferry over to Paradise Island for Atlantis and going to Junkanoo Beach.
The water taxi to Atlantis was $8 round trip. Limited access to Atlantis was free and Junkanoo Beach was free. It was about a 15 minute walk from the pier, next to Fat Tuesday's.
Disembarkation
We were in zone three and got to disembark at 8:30am. From the time we got in line to get off the ship to the curb was about 20 minutes. Our bags were on the belt when we got off the ship and we headed straight to the customs line.
Customs was easy in Miami because they didn't have to scan our passports into the computer. They just verified our passport and took our I-94 form and told us to have a good day. We only purchased $20 worth of souvenirs so we were free and clear.
Final Thoughts
I would sail Majesty of the Seas again for a few reasons:
It does weekend cruises
The ship is small and you have a connection to the water
There aren't a ton of passengers on the ship
It calls at a private island
Do your research on the ship and realize that it isn't a super cruise ship and you'll be just fine.
Want more? Hear my review of Majesty of the Seas here:
[smart_track_player url="https://traffic.libsyn.com/cruiseradioshow/CR_JUL_16_15_MIX_AU_EDIT.mp3″ title="Majesty of the Seas Review" artist="Cruise Radio" social="true" social_twitter="true" social_facebook="true" social_gplus="true" ]
Pin this! ↘︎