Holland America Line is hosting a MasterChef cruise from November 6-13 in the Caribbean, and they've just announced that MasterChef Junior will be a part of it too.  Fresh off the kids' version of the popular show's finale, cruise and series producers announced that the season four winner, Addison, and semi-finalist Zac will bring their culinary expertise to the high seas.  This will be the second MasterChef cruise and will be aboard ms Nieuw Amsterdam from Fort Lauderdale.
10 year-old Addison and 13 year-old Zac will join the previously announced lineup, including adult MasterChef winners Claudia Sandoval, Luca Manfe, season five runner-up Elizabeth Cauvel, and contestant Leslie Gilliams.  Another MasterChef Junior contestant will be onboard as well; Sean from season two.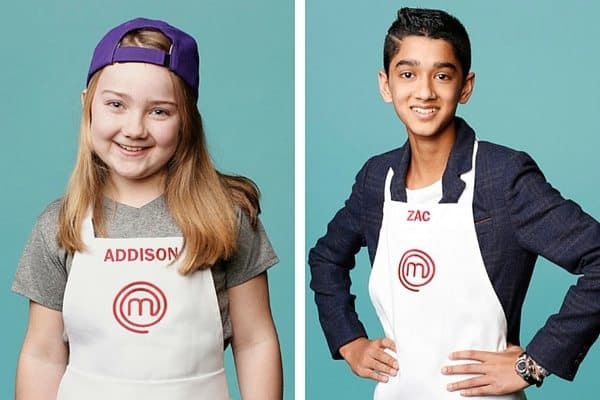 Addison earned her spot on the show with her signature dish Fresh Pesto Pasta with Garlic Bread.  She then wowed Gordon Ramsay and the other judges with dishes including Green Tea Panna Cotta, Chocolate Marshmallow Cupcake, and Brûlée Plums.  She also loves sports, and wants to open a bakery someday called Batter Up Bakery.
Zac had only been cooking for a year and a half before his television debut, and succeeded under high pressure situations the show presented.  He impressed the judges with dishes such as Pan-seared Branzino with a Celeriac Puree, Sautéed Pearl Onions, Chicken Jus, and Blanched and Sautéed Peas with an Onion Beet Marmalade.
For the first time, specialty sessions and demos will be available for guests in the Holland America Culinary Arts Center.
The MasterChef Junior All-Stars will host events and demos including:
a dining experience with a menu created by the pint-sized cooks
an all-stars grilled cheese showdown
iconic mystery box challenges
all-stars meet-and-greet with guests
the all-stars finale cook off
Guests will also have a chance to compete alongside Addison, Zac, and fellow passengers for special prizes on the MasterChef Cruise stage.
The seven-day cruise will visit Grand Turk, San Juan, St. Maarten, and Half Moon Cay.  For more details, visit masterchefcruise.com.
To find out more about ms Nieuw Amsterdam, visit hollandamerica.com.