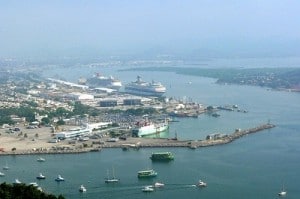 Local businesses and tour operators in Mazatlán welcomed more than 600 passengers aboard Oceania Cruises flagship, "Regatta" Monday, May 28 at 8:00a. The travelers, primarily American, Canadian, Thai and Dutch, spent 12 hours in the city, exploring the historical center, sampling the local cuisine and touring the nearby rural communities.
Despite the departure of cruise lines such as Holland America in 2011, cruise activity is gradually picking up in the port of Mazatlán, beginning with Oceania Cruises. Tourism officials held meetings with a number of cruise lines at Cruise Shipping Miami this past March, many of which intend on returning to Mazatlán soon.
A classic Pacific Coast destination for cruising, Mazatlán was first developed as a commercial seaport. "The Love Boat," a popular American television series in the 1970s, captured cruise guests' experiences ashore ports of call along the Mexican Riviera, including Mazatlán.
The city continues to diversify its tourism product from its thriving cultural scene to its adventure travel and sport offering – not to forget its world-renowned shrimp.
Tourists aboard The Regatta enjoyed local sites in Mazatlán, including the Angela Peralta Theater, the Aquarium Mazatlán and El Faro, the second highest lighthouse in the world.
The Regatta's current itinerary is an 18-day tour beginning in San Francisco and concluding in Miami, with stops in the Mexican cities of Cabo San Lucas, Mazatlán, Acapulco, Huatulco and Chiapas.
For more information on Mazatlán, please visit www.gomazatlan.com.
Source: Mazatlan
Subscribe to our Cruise News Updates.
Related articles