If you know much about Disney, you know they go all out for holidays – and Christmas is the biggest celebration of all.  The parks and the cruise line are decked out in a giant swirl of treats, decorations, and festive costumed characters.  Obviously for the purpose of this article, though, we are focusing on Disney Cruise Line, and their exciting Very Merrytime Cruises.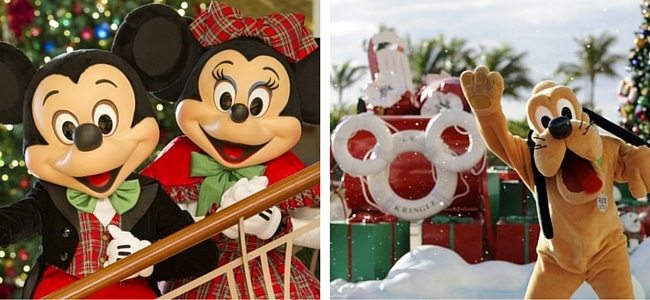 Starting early November, Disney crew add an extra touch of pixie dust to all four ships, transforming them into floating celebrations of the holidays.  Highlights include "turkey day" fanfare, Christmas feasts, "snow flurries," and New Year's Eve galas, as well as:
Mickey's Tree-Lighting Magic – in the atrium on the first night of the cruise, Disney characters will lead Christmas carols as the three-deck-tall tree is lit.
Santa's Winter Wonderland Ball – guests welcome Santa and Mrs. Claus with a celebration featuring Broadway-style entertainment, Disney characters, and classic holiday tunes.  The evening is completed when a special pair of royal sisters join the party and cause a magical snowfall in the atrium.
Dickens-inspired carolers carry the spirit of the holidays throughout the ship singing holiday classics, sometimes along with Disney friends.  At the end of the cruise, kids will be able to join them onstage for a special farewell show.
Deck the Deck Party – a tropical celebration with games like hula hooping and limbo under oversized candy canes, along with dances for the whole family like the "Yuletide Slide" and a conga line around the pool.
Family Christmas activities – building gingerbread houses, meeting Santa, and more.
Youth Christmas crafts – decorating stockings and gingerbread men cookies, making Christmas cards, and creating holiday animation cells.
Holiday edition of the farewell celebration – on the final night of the cruise, beloved Disney characters and the ship's crew will put on a special holiday version of the farewell celebration, led by Mickey Mouse.
READ MORE: Disney Wonder Fall Enhancements Revealed
On Thanksgiving, guests will enjoy a Thanksgiving feast, and visits from Mickey and Minnie dressed in traditional Thanksgiving attire.  NFL football games will also be broadcast live on the ships' outdoor jumbo screens.
Christmas services will be held on Christmas Day, with a midnight mass on Christmas Eve, and Hanukkah services will be held each day from December 24 to January 1.  Christmas morning at the tree in the atrium, Santa will have a surprise for all the kids, and a traditional Christmas dinner will be served that night in the dining rooms.
When the ships stop at Castaway Cay in the Bahamas, the celebration continues with "snow flurries," a decked-out Christmas tree, character meet and greets, and Christmas island music.
To ring in the New Year, voyages during the holiday will include a special New Year's Eve party with music, sparkling wine, and a midnight countdown.
The holiday festivities will occur on Disney Magic cruises departing from November 5 to December 23, on Wonder from November 10 to December 23, Dream from November 7 to December 22, and Fantasy on cruises departing from November 19 to December 24.
Check out yesterday's article on Disney Cruise Line's upcoming Halloween festivities by clicking here!
Photos: Disney Cruise Line