MSC Cruises and PortMiami have broken ground this week, celebrating the beginning of construction for the renovation project of cruise Terminal F at PortMiami.  The project will not only rejuvenate and update the existing terminal, but will also expand the terminal to house both MSC Divina and their upcoming ship MSC Seaside.  
The groundbreaking of the renovation and expansion project comes on the heels of the float out ceremony for MSC Seaside, which happened this past weekend.  Along with PortMiami, MSC has been very involved in the design of the new terminal, helping ensure that it will meet the needs of guests and result in a quick and seamless cruiser experience.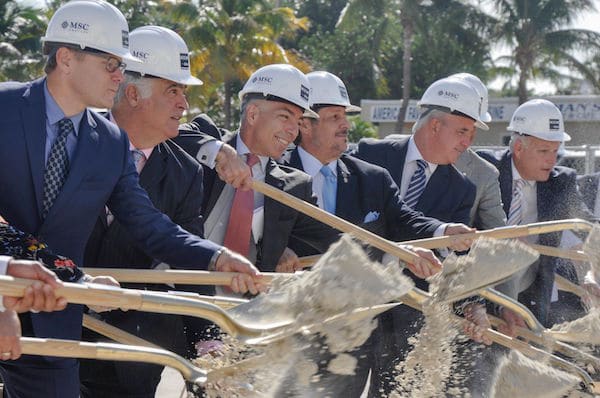 Enhancements to the terminal will include:
Expanded elegant waiting area with seating for up to 1,500 guests
Expanded and improved VIP private waiting area to accommodate the increased number of guests able to sail in the MSC Yacht Club aboard Seaside
Separate waiting areas and lines for MSC Black Card members and guests booking in the Aurea Experience who receive priority embarkation
Smoother disembarkation process with a more flexible and efficient baggage claim area
Facility advancements to accommodate the smart ship technology that will be on MSC Seaside as it relates to embarkation and debarkation processes
The terminal is being renovated by Munilla Construction Management, and is expected to be ready December 1, 2017.  MSC Seaside is scheduled to arrive in PortMiami just 20 days later on December 21, where she will join Divina for sailings to the Caribbean year-round.