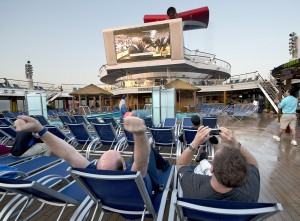 Miami Heat fans sailing on the Carnival Sunshine, which is currently on a 12-day Mediterranean cruise, never quite made it to bed last night. As the ship made its way to Naples, Italy, Miami Heat fans stayed up until 6 a.m. local time to watch their beloved team win its third overall NBA Championship and their second consecutive title.
The nail-biting game was aired on the ship's Seaside Theatre, a 270-square-foot LED screen, located poolside on Lido deck. Photographer Andy Newman of NewmanPR took a few pictures of fans poolside joining two time MVP Lebron James and teammates in celebrating the big victory.
Source: CCL
Subscribe to our Cruise Updates.
Related articles