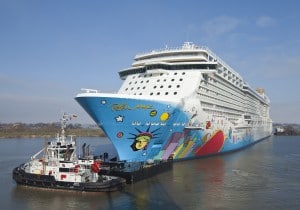 Norwegian Breakaway, the largest cruise ship to ever be built in Germany, departed MEYER WERFT in Papenburg last week, for her approximately 24-hour long conveyance along the Ems River. The river conveyance demonstrated Norwegian Breakaway's seaworthiness and marked another key milestone prior to the ship's highly anticipated delivery.
Sailing backwards, Norwegian Breakaway left MEYER WERFT at approximately 10 a.m. (local time in Germany), and made a narrow passage through the ship yard's locks, with only 1.6 meters clearance separating the ship from the "bumpers" that were specially  installed along the starboard side of the locks. This very tedious maneuver took approximately 1.5 hours at a maximum speed of only 0.2 knots. The precise navigation was led by a team of two located on the bridge, with one navigation officer in charge of overseeing the bow maneuvers and the other overseeing the movement of the stern. It was extremely important that not too much force was placed on the bumpers, which can only support a light touch by the ship, which measures 1063 feet long and 130 feet wide; therefore, minimum speed and minimum pressure on the bumpers was essential. After passing through the locks, Norwegian Breakaway continued along the river, stern first. Due to the strong propulsion in the aft section of the vessel, traveling stern first helps with maneuverability which is a key component when navigating the vessel through such narrow passages.
In preparation for the ship's conveyance, the Nautical Operations teams from both MEYER WERFT and Norwegian trained and practiced the precise maneuvers for the past several months, utilizing high tech simulators and detailed schematics. Norwegian Breakaway is the largest cruise ship to ever be built in Germany and presented the most challenging conveyance ever, as the ship required precise maneuvers in order to navigate through extremely narrow passages, with less than two meters clearance on either side of the vessel.
Norwegian Breakaway will sail year-round from New York City starting in May 2013.
Subscribe to our Cruise Updates.
Related articles