Last month, Holland America Line's ms Eurodam went into a two week dry dock, and emerged with several new venues and enhancements.  It's the first ship to undergo the enhancements that are part of a $300 million initiative that was announced in November.  Other ships will follow with the same or similar updates in the next few years.
Entertainment Expansion
The new Lincoln Center Stage and Billboard Onboard were added to the ship, complementing the already-existing B.B. King's Blues Club.  In the new venues, world-class musicians will play chamber music nightly, and on sea days, the ensemble will play afternoon recitals.
Billboard Onboard sees dynamic shows performed by live musicians, including a guitarist, a DJ, and two pianists.  It is centered around facts and figures of musical history as noted by Billboard.  Guests will be able to participate in trivia questions and sing along if they wish.
ms Oosterdam will get these venues in April, and other Signature and Vista-class ships will receive the additions in the next couple years.
Gallery Bar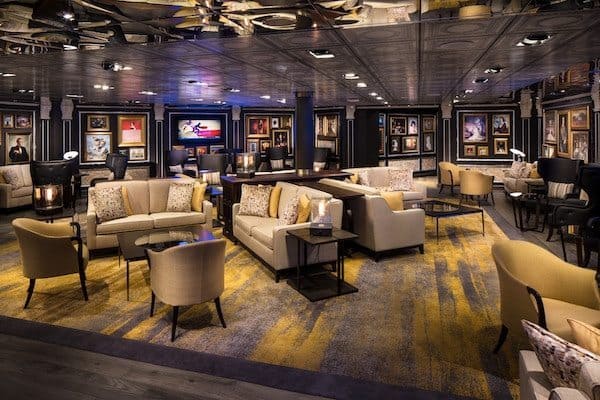 The sophisticated venue, The Gallery Bar, made its debut aboard Eurodam.  Replacing Northern Lights, the eclectic and whimsical bar features an exclusive cocktail menu by Dale DeGroff, and is decorated with still-life, landscape, portrait, and abstract pieces of art.
The bar will be introduced on ms Nieuw Amsterdam, ms Noordam, ms Westerdam, ms Oosterdam, and ms Zuiderdam by May 2018.
Lido Market
The casual Lido Buffet has been transformed into the more modern concept, the Lido Market.  It features different themed stations with grab and go, made to order, and classic buffet options.  The range of selections includes stations such as Breadboard, with fresh baked bread and pastries; Wild Harvest, offering a vast variety of ingredients for made to order salads; Homestead, serving comfort-food classics; Distant Lands, featuring exotic global flavors; Sweet Spot, where desserts are bountiful, and more.
Service at the Lido Market will include coffee, water, juices, and iced tea served tableside, and at dinner, the venue will have an upgraded feel with dinner settings already at the tables.
New York Pizza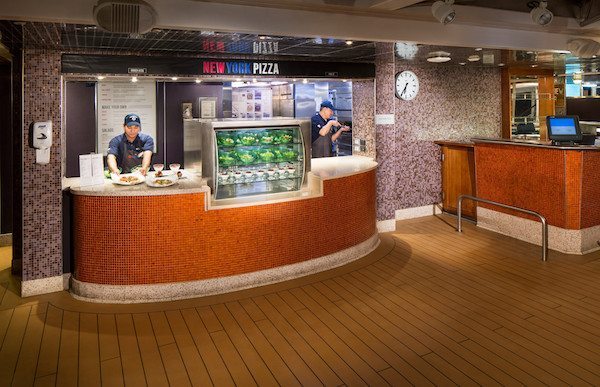 Sorry Slice, you've got to move over.  New York is coming through, and it's hot!  New York Pizza, replacing Slice, debuted on ms Nieuw Amsterdam and offers five New York themed personal pizzas made to order, as well as the option to pick your own toppings.  While you're waiting for your hot thin-crust pie to come out of the oven, you can enjoy a salad, and finish off your meal with some sweet treats.
Suite Upgrades
The Eurodam is the first ship to receive the new suite upgrades planned for the Vista, R, and Signature-class ships.  The main living area was refreshed with new furniture, carpet, and wall coverings.  There were also some electronic upgrades, such as USB outlets by the bed, a lighted closet rod, and LED reading lights.  Neptune and Pinnacle suites also were given a Bose Bluetooth speaker.
The bathrooms were not forgotten!  The vanity area has been refreshed, as well as new mirrors with LED lighting, stylish floor tiles, and a nightlight.
The ship was also given a new television system, with complementary movies on demand and access to shipboard information and the daily program.  For more information on this ship or Holland America, visit hollandamerica.com.
Photos courtesy of Holland America Line