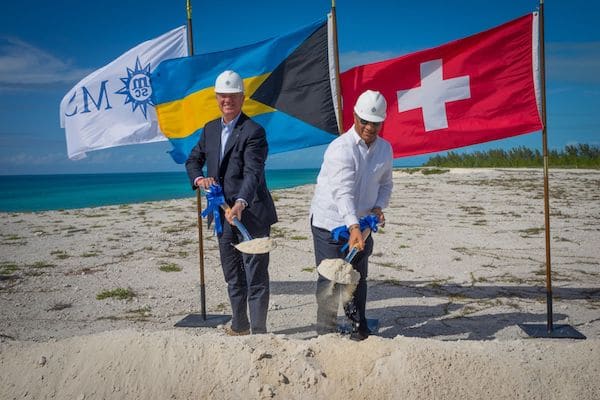 MSC Cruises has officially broken ground on their new private island in the Bahamas – Ocean Cay MSC Marine Reserve.  
Located south of Bimini, the island will become a natural paradise exclusively for MSC guests beginning in November 2018.  The development of the destination is a part of MSC's $10.2 billion investment plan, which includes the building of up to 11 new smart ships entering service from 2017 to 2026.  The first phase of development of the marine reserve will now begin as the island is cleared of existing industrial infrastructure so it can be turned into a pristine paradise.
Ocean Cay is located a mere 65 miles east of Miami, and has 11,400 feet of coastline and crystal blue waters filled with unique marine life.  It has some of the best aragonite sands in the world, and once the work is completed the surrounding waters will be home again to vibrant coral and rich aquatic life.  A comprehensive landscaping plan will see over 80 indigenous Caribbean trees, grasses, flowers, and shrubs planted on the island for a lush natural habitat.
MSC Seaside and other MSC ships operating in the Caribbean will call in Ocean Cay regularly from November 2018 onward.  For more detailed information on what the destination will be like, visit this article.