MSC Cruises has announced new details on its upcoming ship MSC World Europa, and also opened the vessel for booking as of Monday.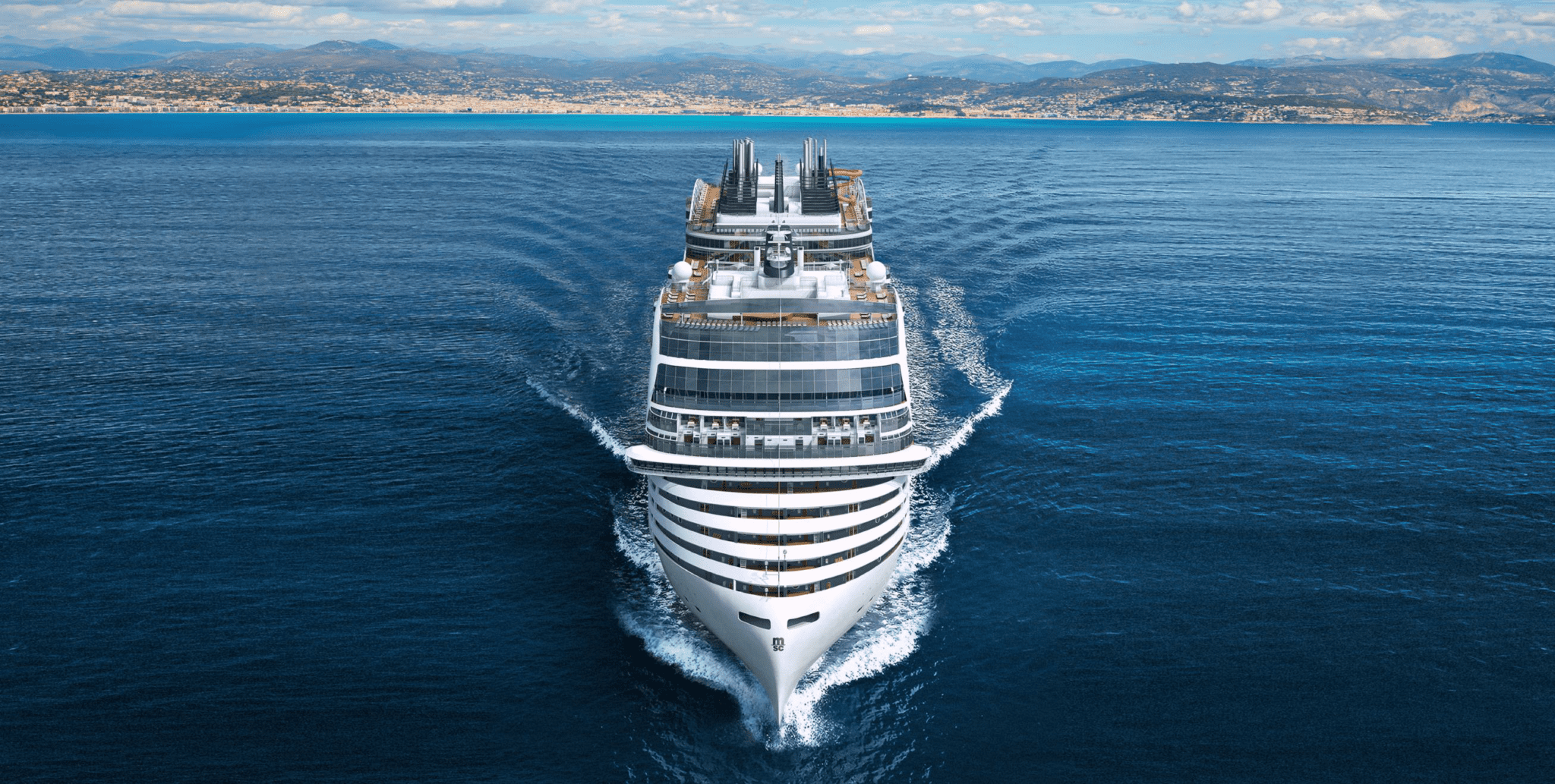 The first in the MSC World Class, the next-generation ship will feature the latest marine technologies and an ultramodern design.
"At MSC Cruises innovation will and has always been at the heart of our business, driving how with each new class of ships we reimagine the guest experience, the operations as well as every single aspect of the technology that brings it all together," said MSC Cruises' Executive Chairman Pierfrancesco Vago.
"Whether it is the new advanced air filters that will be introduced here or the vessel's iconic and never seen before Y-shape design, MSC World Europa is all about the future."
Onboard Design & Features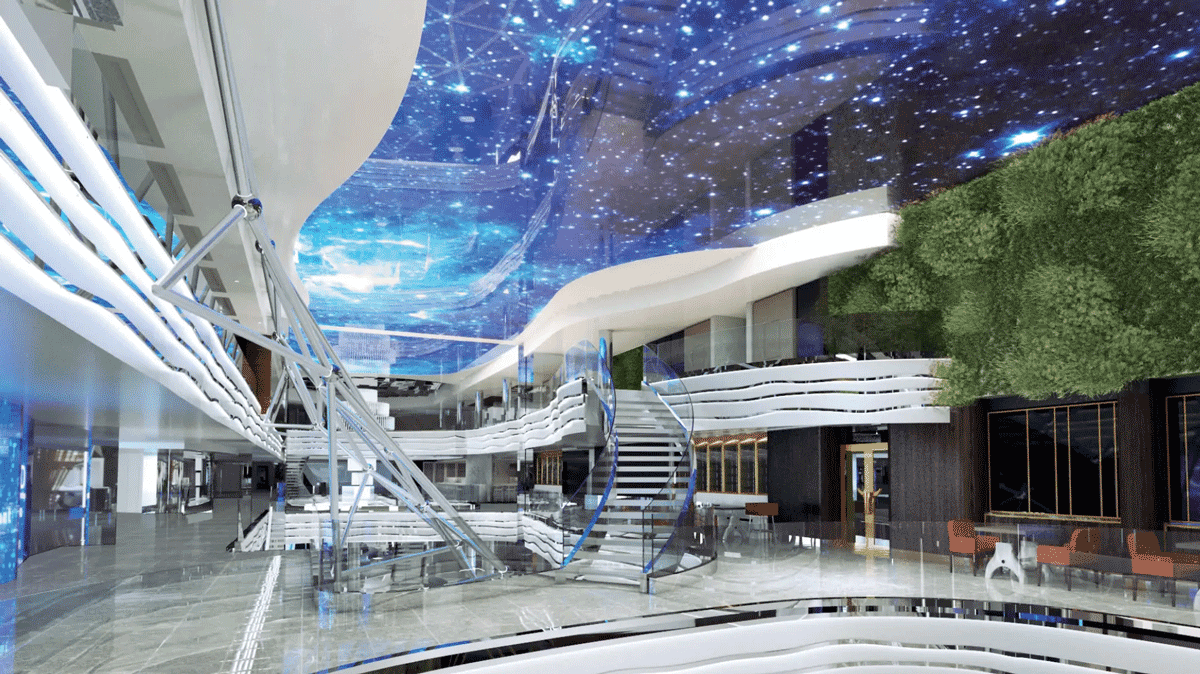 MSC World Europa will be what MSC calls an "ultramodern urban metropolis at sea." The vessel will be divided into distinct districts, similar to how Royal Caribbean divides its mega Oasis-class ships into neighborhoods.
Each district on World Europa will have their own mood and experiences, including an adults-only zen district, a lively promenade with entertainment, shops, and bars, and a family district that houses as many as ten new kids' facilities.
Features onboard will include a family sundeck, an aquapark, six pools, 14 hot tubs, and full-scale production theater shows of a quality that MSC Cruises guests have come to expect.
Dining Experience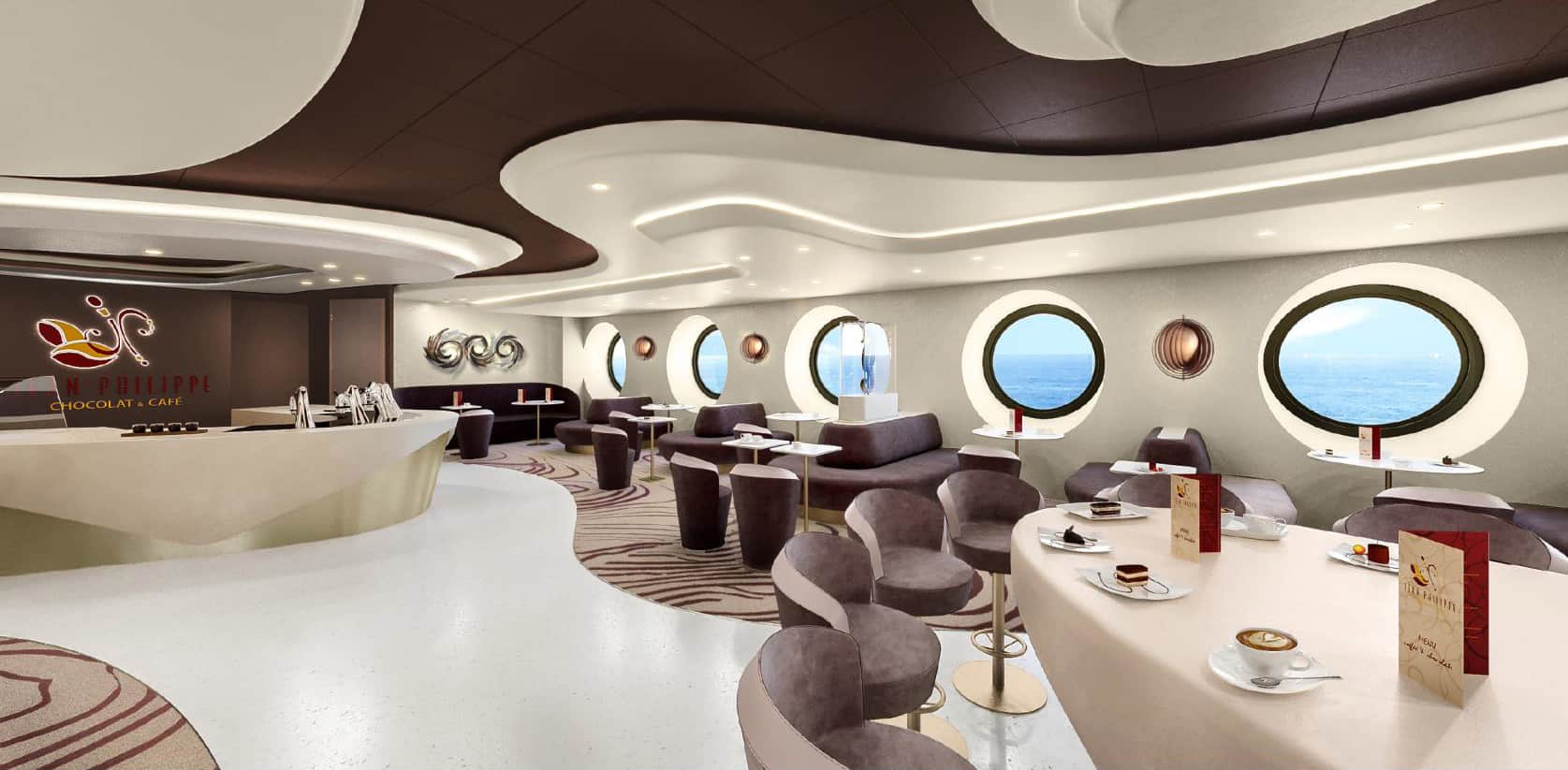 World Europa will feature dining based around the season and curated immersive experiences. There will be a strong focus on artisanal and craft products, particularly in the variety of bars and lounges, as well as new gourmet dining options.
The ship will feature 13 dining venues, which includes six specialty restaurants. Two new locations will include the Chef's Garden Kitchen, focusing on microgreens, and La Pescaderia, a traditional seafood grill with outdoor seating.
Fan favorites that will be making a return include Butcher's Cut steakhouse, Kaito Teppanyaki Grill and Sushi Bar, and the recently-launched Latin American street food-inspired Hola! Tacos & Cantina.
MSC World Europa will also offer three buffets, including one that's open 24/7.
The snack and bar selection will include a variety of soon-to-be-announced new venues, as well as current favorites like the Masters of the Sea Pub serving craft beer brewed onboard, as well as the Elixir – Mixology Bar, a South Asian-style tea room, an Emporium coffee bar, a Gin Bar inspired by a real distillery, and a zesty juice bar with juices made from freshly-squeezed fruits.
Stateroom Types
The vessel will include a wide range of stateroom options, with 19 different categories to choose from. 65 percent of staterooms will feature balconies.
Seven new cabin types will be introduced onboard.
These include:
Balcony suites and staterooms that overlook the promenade, designed for guests to soak up the atmosphere below
Duplex MSC Yacht Club suites with large balconies, private hot tubs, and open living/dining areas
Stylish Aurea Suites with spacious balconies and hot tubs
Infinite Ocean view staterooms with a panoramic sliding window that turns into a glass balustrade when open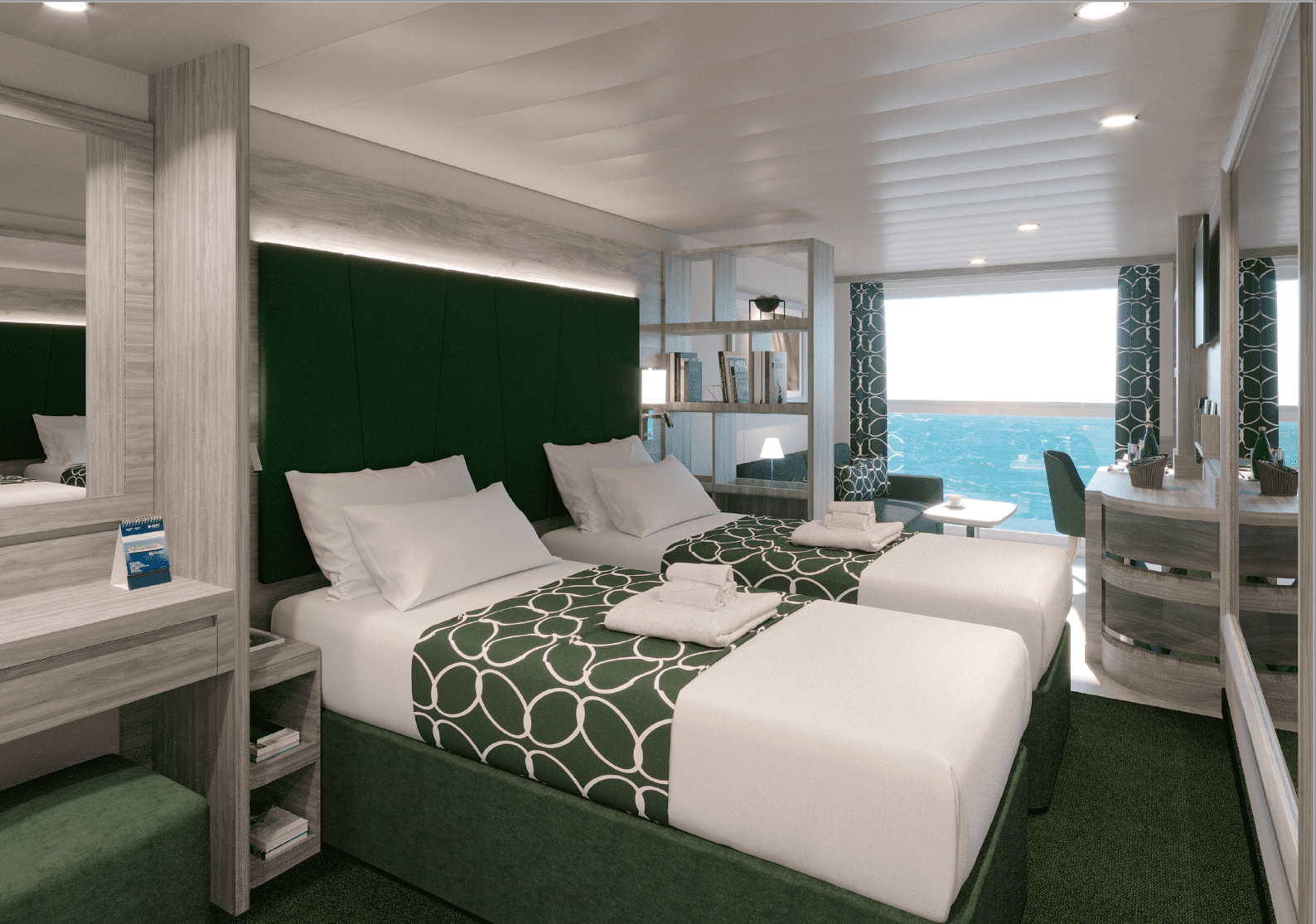 "Future-Proof" Design
MSC World Europa will have what the line is calling a "future-proof" design. The ship's signature 90-degree plumb bow shaped like an arrow will cut through the water with ease. Its Y-shaped aft opens onto the 341-foot-long Europa Promenade with stunning ocean views. It will be half open to the sky and half covered by a LED sky screen, and the LED screen with feature different displays throughout the day.
One of the most striking features on the ship will be The Spiral, a dry slide that spans 11 decks, making it the longest at sea (as Royal Caribbean's Oasis-class Ultimate Abyss slide is 10 decks high).
World Europa will be 1,093 feet long, 22 decks high, and 205,700 gross tons.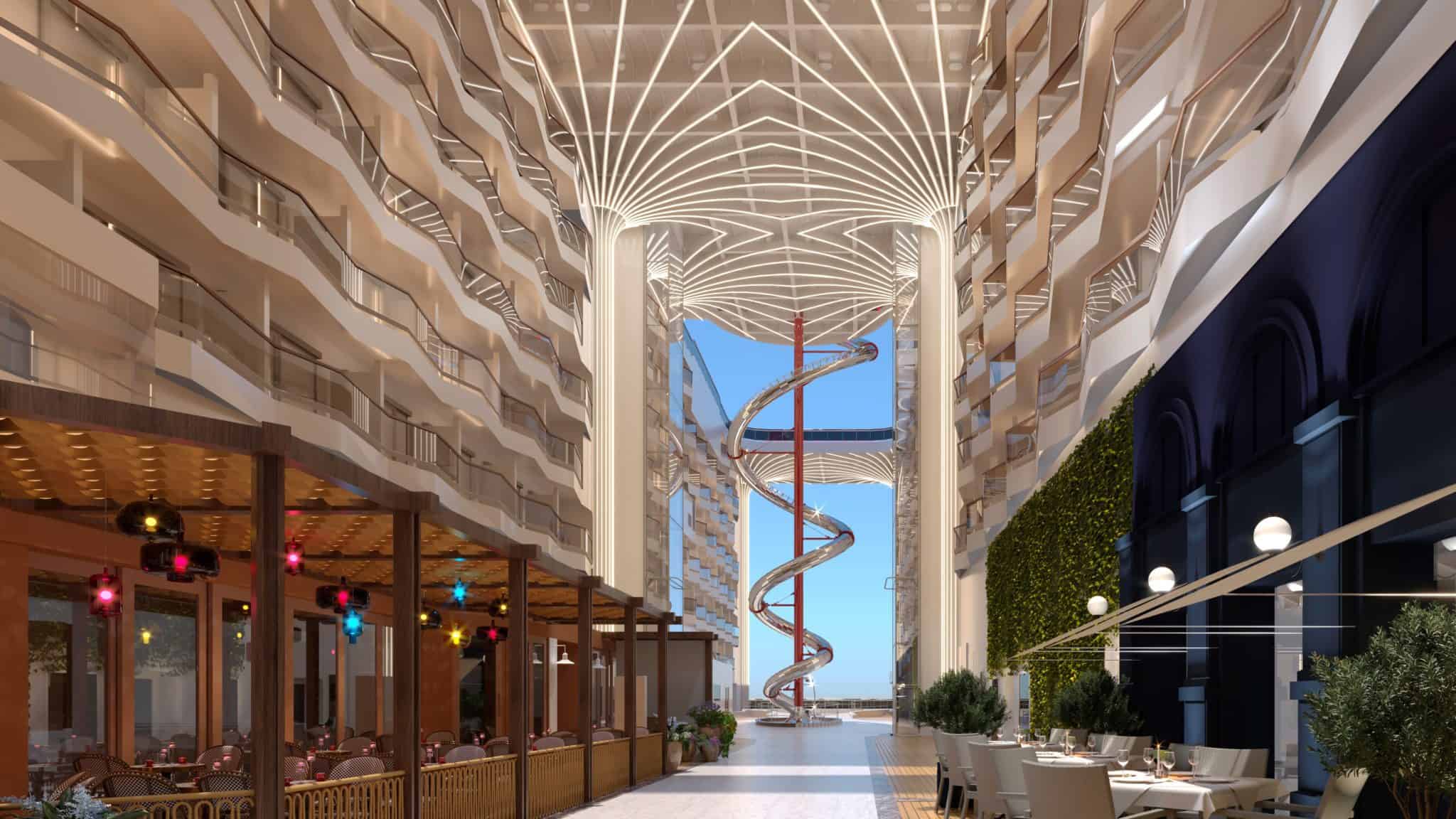 Eco-Friendly Ship
MSC World Europa will be the first LNG-powered vessel in the MSC fleet, and the most environmentally advanced to date. Liquefied Natural Gas is one of the world's cleanest burning marine fuels, and is set to play a key role in the transition to the decarbonization of international shipping.
The vessel will also feature selective catalytic reduction systems, shore-to-ship power connectivity, advanced wastewater treatment systems, an underwater radiated noise management system, and a range of energy-efficient equipment that help optimize engine use.
Itinerary
MSC World Europa will enter service in December 2022 and spend her inaugural season in the Persian Gulf. Her season will begin with a four-night sailing from Doha, Qatar to her homeport of Dubai, UAE.
The vessel will offer seven-night cruises from Dubai to Abu Dhabi, Sir Bani Yas Island, Dammam, and Doha, with an overnight back in Dubai to end the voyage.
On March 25, 2023, MSC World Europa will head to the Mediterranean, and in summer will offer seven-night cruises calling in Genoa, Naples, Messina, Valletta, Barcelona, and Marseille.