MSC Cruises has announced that sales are now open for their second world cruise, setting sail in 2020 aboard MSC Magnifica. Voyagers Club members can begin booking today, and all other travelers can book beginning November 23.
The 2020 MSC World Cruise boasts a new itinerary, with over 40 ports of call and 23 countries. With four different embarkation ports and dates to kick off the three-month adventure, guests can pick their ideal starting point for a more customized vacation. Those embarking from Rome, Genoa, Marseille, and Barcelona on the 4th, 5th, 6th, and 7th of January 2020 will cross five continents on a three-month cruise. Eight destinations along the way will include an overnight stay in port as well, giving guests up to two days to experience the local attractions, food, and atmosphere.
The epic voyage will visit 43 destinations in total, many of which are brand new to MSC Cruises. They include, among others…
Ushuaia, Argentina – As the most southern city in the world, this fishing village offers beautiful water scenery with often snow-topped mountains.
Rapa Nui/Easter Island – This island is famous for its unique collection of carved-stone figurines dating back to the 13th century.
Darwin, Australia – Located at the northern tip of the country, the region allows guests to experience the true Australia – beaches, lagoons, sports, and local wildlife are all nearby.
Valparaiso, Chile – This city is famed for its small colored houses on its coastal hills, and guests get a great view into the Pacific or can explore the city, searching for its photo-worthy murals.
Mumbai/Bombay, India – The busting city of Mumbai (previously called Bombay) offers smells, tastes, and sights around every corner.
Salalah, Oman – With multiple waterfalls, exotic flora, and unusual animals, this stop will be hard to forget.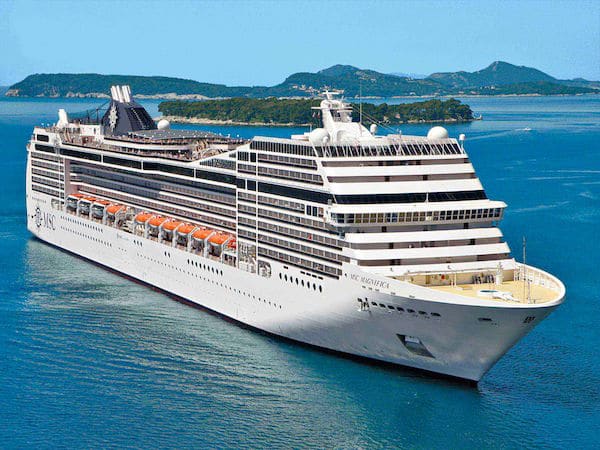 Included in the cost of the cruise are 15 shore excursions through MSC. More excursions will also be available to book in advance or during the voyage. Some highlights include swimming with turtles in Isle of Pines, New Caledonia; exploring ancient Petra in the middle of the Jordanian desert in Aqaba, Petra; and heading for the top of the Kuala Lumpur Tower in Port Kelang, Kuala Lumpur.
Guests aboard the World Cruise will also benefit from:
A complimentary Mealtime Restaurant Drinks Package, which includes unlimited wine, mineral water, draft beer, sodas, and fruit juices during lunch and dinner in the main dining room and buffet
A 30 percent reduction in cost for all laundry services
Over 90 shows performed in the Royal Theatre, including 30 Broadway-style and a wide range of live music, including acts inspired by the itinerary
A comprehensive activity schedule with theme evenings, language classes, cultural guest speakers, and more