MSC Cruises has been a powerhouse with announcing and debuting new ships in the past few years, and they don't appear to be slowing down anytime soon.
Today at the Fincantieri shipyard in Monfalcone, Italy, the line officially took delivery of their new flagship MSC Seaside. During the ceremony, MSC Cruises and Fincantieri also signed firm orders for the construction of two Seaside EVO ships, which will be a further evolution of their Seaside class.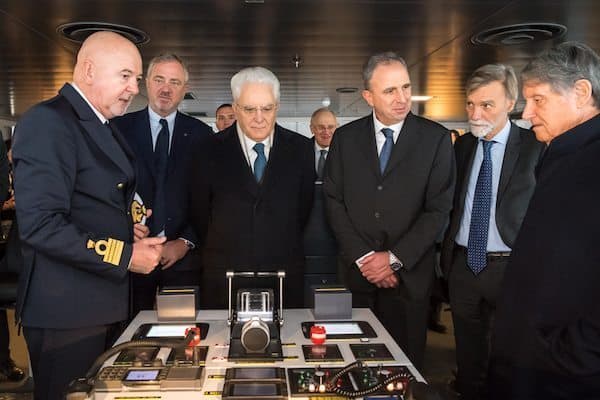 "MSC Seaside coming into service marks another key milestone in the history and future of our Company, but she also embodies a pivotal moment for the industry," said Pierfrancesco Vago, executive chairman of MSC Cruises. "In fact, she is the first ship of the fifth new prototype that we bring into service and introduces a wholly-innovative product that sets a new standard for the industry to follow. The Seaside Class of ships is designed to bring guests closer to the sea and to operate in sunny waters, while continuing to push the boundaries of maritime and guest-centric technology." He continues, "as we are nearing the end of 2017, we can look back on a year when we enjoyed unprecedented capacity growth. With two of the more innovative new ships in the industry having come into service in the past six months and now with the addition of two Seaside EVO ships to our investment plan, we are now even better positioned to further extend our global footprint. We are expecting the delivery of at least one new ship each year through 2026, with six to have come into service between 2017 and 2020."

Following the new agreement, the initial slot reservation agreement to build a third Seaside class ship to be delivered in 2021 has been replaced to instead build the first of two Seaside EVO ships. The second vessel is set to begin sailing in 2023.
In addition to offering more space, Seaside EVO ships will have more cabins and a larger Yacht Club, and will all together hold up to 5,646 guests (4,072 at double occupancy). Like the Seaside class, the EVO ships will be equipped with the latest technology to reduce their environmental footprint.  With the addition of these new ships, MSC Cruises' investment plan will now account for 12 new ships to be built between 2017 and 2026, for an overall investment of 10.5 billion euro.
During today's delivery ceremony, Fincantieri's shipyard director Roberto Olivari handed over an ampoule holding the first water that touched the hull earlier this year to Pier Paolo Scala, Master of MSC Seaside. After the ceremony the ship set sail for Trieste, and from there will continue to Miami for her naming ceremony on December 21. The ship will homeport there and sail in the eastern and western Caribbean. Her sister ship MSC Seaview will enter service in June 2018, starting her summer season in the Mediterranean. Today at the ceremony, Mr. Vago announced that Seaview will be christened in Civitavecchia, Italy on June 2, 2018.
SaveSave