MSC Cruises celebrated construction milestones for two of their ships today at the STX France shipyard. The traditional coin ceremony was held for MSC Bellissima, as well as the cutting of the first steel for the first Meraviglia-Plus class ship. As part of the steel-cutting ceremony, the name of the Meraviglia-Plus ship was revealed: MSC Grandiosa. 
The second part of the festivities was the coin ceremony for Bellissima, where two commemorative coins were placed into one of the ship's blocks as a sign of blessing and good fortune for the ship, her crew, and guests. The two mega ships are due to enter into service in March 2019 and November 2019.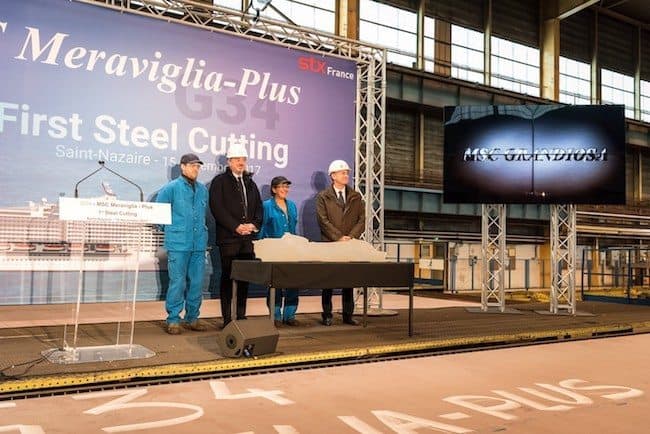 The Meraviglia-Plus ships are a further evolution of the Meraviglia design, which includes both MSC Meraviglia that launched in June 2017, as well as Bellissima. They are 181,000 gross tons and can hold a whopping maximum capacity of 6,334 guests. The plus class ships will feature the first fine art museum at sea, with a collection of both classic and contemporary art.
Another highlight aboard both ships will be Cirque du Soleil at Sea. The longterm partnership between MSC and Cirque du Soleil will see the world's leader in artistic entertainment create a total of eight original shows just for MSC Cruises' Meraviglia and Meraviglia-Plus ships. Each of the four vessels will feature two contrasting shows – two of which have already debuted aboard MSC Meraviglia earlier this year.
This past June, MSC Cruises launched MSC Meraviglia in France, and will welcome MSC Seaside to Miami in December. In June 2018, MSC Seaview will join the fleet. Sales are already open for Bellissima's inaugural summer season in the Mediterranean, and the opening date for Grandiosa will be announced soon.