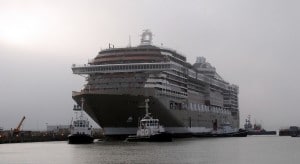 FORT LAUDERDALE, FLA.– MSC Divina, the third and latest addition to the MSC Cruises' flagship Fantasia class, floated out of dry dock B at the STX Europe ship yard in Saint-Nazaire, France on Saturday, September 3, and transferred to dock C for final fitting and furnishing prior to her christening on May 26, 2012.
Representing a major milestone in this 140,000 ton ship accommodating up to 4,363 guests, a select group gathered to witness the ship slated to become the 12th ship in MSC Cruises' fleet.
"Today marks the start of the final one-million hours of work required to ensure MSC Divina is ready for her debut on May 26, 2012 in Marseille, France," said Emilio La Scala, general manager of MSC Cruises' technical department.
Named in honor of Sophia Loren, Italian film legend and godmother of several MSC ships, MSC Divina will be appropriately themed as a divine goddess.  
Also announced during the float out, the ship's 18 decks (13 of which are for guests' use) are being named after the gods of ancient Greece; among them Urano, Afrodite, Aurora, Giunone, Artemide, Zeus, Mercurio, Cupido, Iride, Minerva, Apollo, Saturno, and Elios. 
Another addition to the ship is the aft Garden Pool purposely designed and decorated as an upscale area for quiet retreat, philosophizing or simply gazing into the sunset.
 Construction of MSC Divina began more than a year ago with a total of 74 mega-blocks each consisting of a set of large pre-fabricated hull components used for assembling the ship.
 Work on the keel is nearly completed. Already 50 percent of the outfitting has been done including completion of the electrical networking, plumbing, and public areas.  Work has also begun on 400 of the 1,751 staterooms, 100 more than her sister ships MSC Fantasia and MSC Splendida.
Source and photo credit: MSC Cruises