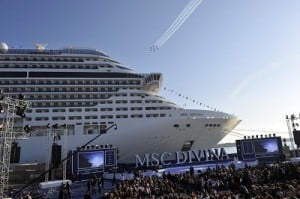 MSC Group owner and President Gianluigi Aponte has received the prestigious Cruise International Lifetime Achievement Award.
The award, accepted on Aponte's behalf by Giulio Libutti, managing director MSC Cruises UK and Ireland, was presented at the 2nd Cruise International Awards ceremony, which was held last night in London and attended by leading industry members.
Cruise International is the United Kingdom's only consumer travel magazine dedicated to cruising.
"We are delighted to bestow upon Gianluigi Aponte this well-deserved honor," said Liz Jarvis, editor of Cruise International. "Under his guidance, MSC Cruises has become one of the world's leading cruise companies; that it has done so in such a relatively short period of time is testament not only to Mr Aponte's expertise, but to his extraordinary vision."
Aponte founded MSC Cruises in the late 1980s. In just over two decades he has grown his company from its modest beginnings to become the world's fourth-largest cruise operator, boasting an ultra-modern fleet of 12 ships – a thirteenth, MSC Preziosa, will be christened in March 2013 — and market-leading positions in the Mediterranean, South Africa and Brazil.
The success of MSC Cruises is only part of a remarkable career that has spanned more than 40 years and produced a global organization  that dominates in not just one shipping sector but several.
Born in Sorrento, Italy, Aponte began his career as a captain in the family company, which operated a fleet of sailing boats on the Mediterranean. In 1970, following a few years in banking, Aponte set up the Mediterranean Shipping Company (MSC) with the purchase of a single ship. Under his leadership, MSC is now the fourth largest cruise operator in the world and the second largest container ship operator in the world, employing more than 40,000 people and operating a fleet of 441 cargo vessels serving 306 ports across five continents.
Despite its spectacular growth, MSC is still a family-owned business and its founder remains dedicated to the company and to his family.
Source: MSC Cruises
Subscribe to our Cruise News Updates.