MSC Cruises has announced the launch of a new vanguard video surveillance system, which was developed in collaboration with global leaders in security technology, Bosch, and Hewlett Packard. Installed aboard the new MSC Meraviglia, among other features the technology will allow for the quickest intervention in the industry in the unlikely event that a person or object falls overboard.
The new MSC Cruises system consists of a shield of intelligent optical and thermal video cameras, which provide nonstop surveillance alongside the relevant exteriors of the ship. All captured video images are streamed in real time to a Central Security Room, where the video stream is monitored together with all other inputs from the 1,200 HD CCTV cameras aboard the ship. After a successful pilot phase of extensive stress-testing and software upgrades, the system is now operational aboard the line's new flagship.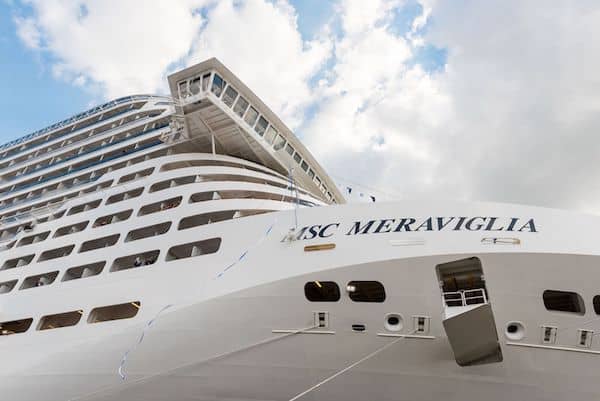 The line's security department and experts from Bosch and Hewlett Packard have worked over 14 months to meet demanding security requirements and create the right surveillance setup. A key component in the infrastructure was to install hardware that could resist the tough conditions at sea. In order to increase the accuracy of the video images, they are processed and analyzed by two independent image processing systems. This double security system has allowed to significantly lower the error margin for false alerts – typically caused by natural movements like waves, the reflection of the sun, or a bird triggering the alarm. Through over 25,000 hours of analysis and testing, the accuracy level has been confirmed at 97 percent.
In case of alarm, an acoustic and visual signal alerts the ship's Security Officer, who can immediately connect to the system and acquire all images and data. With direct access to the bridge, the Security Officer can drive immediate action if necessary. MSC Cruises says that over time, similar systems are going to be developed and deployed across their entire global fleet.
SaveSave