MSC Cruises is busy getting ready for the holiday season, revealing details on their Thanksgiving, Christmas, Hanukkah, and New Year's festivities. Highlights of the line's seasonal voyages include:
Thanksgiving on MSC Divina
MSC Divina's November 18 departure to Jamaica, the Cayman Islands, Mexico, and the Bahamas will be a festive voyage with a Thanksgiving flair. Guests will enjoy a traditional turkey dinner and all-day football in the sports bar. Kids can participate in a special Turkey Day cooking class and a Thanksgiving costume parade and show. Teens will enjoy a themed scavenger hunt, participate in a flash mob, and party at the disco. Prices begin at $609 per person.
Hanukkah on MSC Divina
For those celebrating Hanukkah, the December 9 departure of MSC Divina will have a nightly Menorah lighting and onboard daily prayer service, and will also serve traditional Hanukkah foods in the buffet and main dining rooms. Families can play Dreidel together, with dreidels and chocolate coins handed out with instructions on how to play. A large menorah will also be on display in the atrium. Kosher meals can be ordered in advance. Prices begin at $499 per person.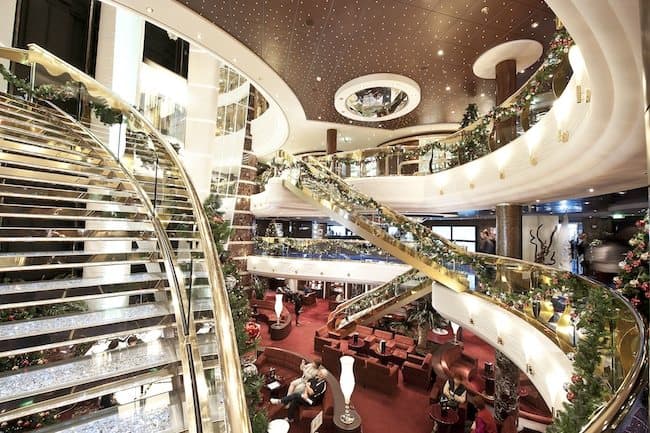 Christmas on MSC Seaside
MSC Seaside's very first 7-night itinerary on December 23 will be over Christmas, and the line is planning to make the holiday a unique one for the ship's guests. Travelers kick off the voyage with an embarkation photo with Santa and his elves. Once onboard, the ship will be covered in festive décor, including lights, Christmas trees, and other decorations. Christmas carols will be heard throughout the ship, there will be a Broadway-style festive show, Christmas music in the atrium, a tree-lighting ceremony complete with hot cocoa and Christmas cookies, and gifts delivered to each stateroom. Families can choose from holiday themed games like trivia and bingo, karaoke, and Christmas movies on the outdoor screen. A Christmas mass will also be conducted onboard.
Special Christmas cuisine will also be available, including a Christmas Eve gala dinner with roasted turkey, panettone, yule log, a Christmas lunch, and festive cocktails throughout the cruise such as the Christmas Star made with limoncello and Prosecco, and the Snowflake made with dark rum and banana. Prices start at $958 per person.
Christmas and New Year's on MSC Divina
The 11-night December 23 departure for MSC Divina will include both Christmas and New Year's, as the ship sails through the Caribbean and South America. Along with being decorated for Christmas, there will be plenty of themed activities and menus throughout the ship for both holidays. To ring in 2018, guests can participate in a champagne toast and party on the pool deck on New Year's Eve.
New Year's on MSC Seaside
Guests will ring in 2018 in style aboard the brand-new MSC Seaside. The voyage begins with a glass of champagne at embarkation, and travelers will bid 2017 farewell with themed trivia, bingo, and a New Year's Eve dance party with a countdown to midnight. Guests will also enjoy a New Year's Eve gala dinner, New Year's lunch, and special cocktails to toast the occasion. Those traveling with kids will be pleased to know that MSC is extending the kids club hours and offering babysitting in the kids club for free, so that parents can enjoy some alone time for the New Year's celebrations. Prices begin at $1,138 per person.