MSC Cruises and Cirque du Soleil's partnership created a new entertainment concept, Cirque du Soleil at Sea. The shows began onboard MSC Meraviglia when she launched in June 2017, and will result in a total of eight original shows that will be exclusively shown on MSC's four Meraviglia-generation ships, coming into service between 2017 and 2020.
Four Years in the Making
Work on the partnership began in 2013, and plans for the Carousel Lounge on Meraviglia were integrated into the ship design. Construction began in 2015, and the creative process for the shows began in 2016. Cirque du Soleil's 45 DEGREES team – their events and special projects division – then recruited the cast and began rehearsals in Montreal. While the ship was still in the shipyard, the performers and creative team moved onboard to finalize the shows and rehearse in the space in May 2017, just a month before the ship launched. The first show was performed at the christening ceremony on June 3, 2017.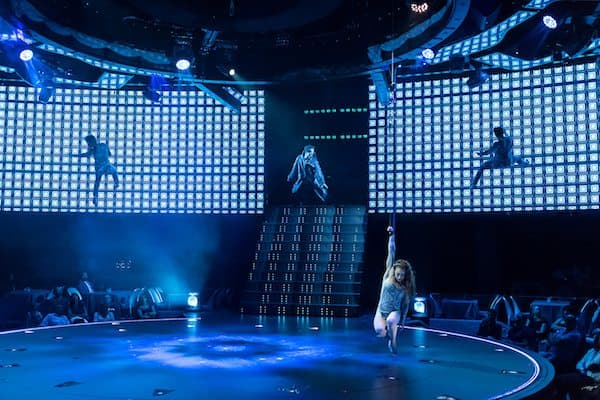 Eight Unique Shows and a Special Cast
The Cirque du Soleil at Sea shows were specially created for MSC Meraviglia and can't be seen anywhere else in the world. For each ship in the Meraviglia generation, there will be two completely unique shows. Each will feature its own original soundtrack, staging, and costumes. Work is already underway for the next two shows for MSC Bellissima, which will debut in 2019.
All of the performers were carefully selected for the specific roles in each show. Some had already performed in other Cirque du Soleil shows, and others were chosen specifically for the Cirque at Sea shows. The team needed to find artists that were multi-disciplinary with a background in dancing and character work for most, as they would all have to have a very strong presence on the stage due to the intimate nature of the theater.
Challenges of a Show at Sea
For the shows on the ship, the artists had to get used to performing on a moving ship at sea. MSC Cruises worked to ensure that the shows could be adapted to the sea conditions. The shows are tightly choreographed but always have different scenarios so that if conditions are rough or a performer is injured, the performance can be adapted.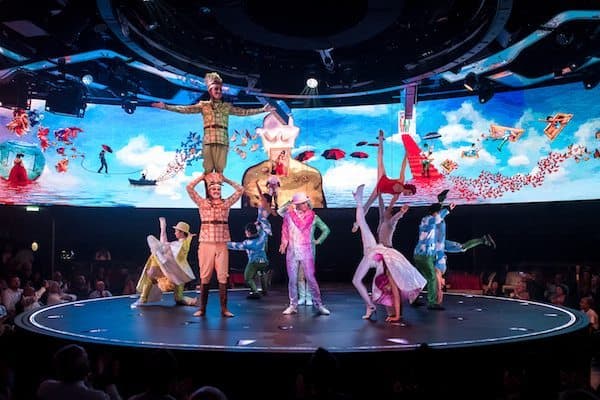 Designed for the Carousel Lounge
The Carousel Lounge is one of the most intimate venues that Cirque du Soleil has created a show for. The ceiling height is much lower than for a usual show, so one of the challenges was creating aerial acts and visuals that worked for the space. The Carousel Lounge features a 131 foot LED screen, a rotating stage, lifts, and a retractable staircase to name a few. Some acts that are offered in the shows include aerial hoops, silk, straps, Roue Cyr, suspending an acrobat in a metal ring, juggling, cheerleading, dancing, acrobatic duets, ladder, and a beat-boxer.
Photos: MSC Cruises
SaveSave
SaveSave