During the coin ceremony today for MSC Meraviglia, held in France, MSC Cruises confirmed the existing STX France options to develop two more ships in the Meraviglia class.  They will be known as Meraviglia-Plus, and be a bit bigger, totaling 2,444 staterooms and together worth $1.7 billion.
The two new ships will be finished in October 2019 and December 2020; the last of the now four Meraviglia STX France made-ships.  Their delivery dates are almost two years sooner than originally anticipated.  The coin ceremony for MSC Meraviglia is an age-old tradition, and it presented an opportunity to see the progress being made on the ship, which will be christened in France and debut in June 2017.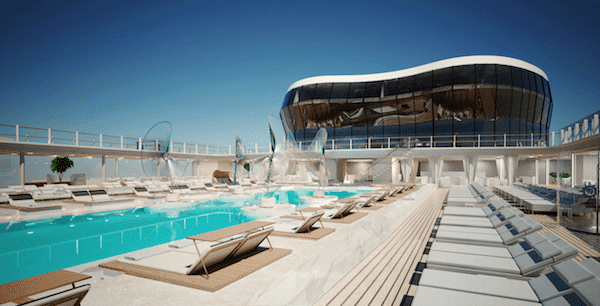 Both ships will feature the first and only classic and contemporary fine art museum at sea.  Masterpieces from around the world will be on display, in collaboration with cultural centers and art museums from all over the globe.  The ships will also boast an additional 200 staterooms and hold a maximum of almost 6,300 guests.  The 1,085 foot-long vessels will be the largest ships at sea able to call at any port – so that shows you how big they'll be!  The interior promenade will be 362 feet long and a 310 foot wide screen will be proudly displayed above it; featuring visual events and vistas around the clock.
MSC's recent partnership with Samsung means that these two new Meraviglia-Plus generation ships will be held to a higher standard in smart ships.  There will be various tech equipment in many aspects of the ship that will not only enhance the guest experience, but the crew experience as well.  The cruise line's recent partnership with Cirque du Soleil will also lend a special flair to these new ships.  A dining and entertainment venue will be built in collaboration with the company, fit perfectly for their incredible acrobatic shows.
For more information, visit msccruisesusa.com.
Renderings courtesy of MSC Cruises.