MSC Cruises marked a big milestone for their upcoming ship, MSC Seaside earlier this morning.  Fincantieri shipyard in Italy and the cruise line held the traditional maritime coin ceremony for the upcoming build.  Seaside is the first of up to 3 of MSC's next-gen Seaside-class ships, and is set to enter service in December 2017.  She will sail year-round from Miami to the Caribbean, and will be the first ship of MSC's fleet to be christened in the US.
MSC Seaside will be over 1,000 feet long and 160,000 tons, accommodating over 4,000 guests.  She is the first of two identical ships in the Seaside generation, with her sister ship to be delivered a year later – in 2018.
The Caribbean & Ocean Cay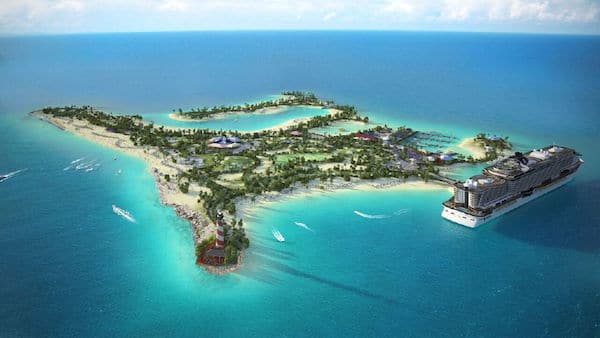 Once delivered, MSC Seaside will sail three western and eastern Caribbean itineraries, visiting the Bahamas, Mexico, Jamaica, and Puerto Rico.  The itineraries will complement MSC Divina's itineraries, which also sails from Miami.  Additionally, Seaside will call in the cruise line's private destination, Ocean Cay MSC Marine Reserve.  With 6 distinct beaches spanning a total of 11,400 feet, the exclusive private island will only be available for MSC Cruises' guests.
The island will feature a berth and pier, so guests won't have to tender to the island; they can walk right off the ship.  Many of the same services aboard the ship will also be available ashore, including an MSC Yacht Club area.  Nightlife will also be abundant on the island, including live music and entertainment in an open air amphitheater, and a variety of restaurants and bars.
Life Onboard
MSC Seaside will feature three all-glass outdoor catwalks that extend over the edge of the ship, giving guests the sensation that they're walking on the water.  The catwalk on the top deck spans almost 100 feet with prime views from the top of the ship, and the other two are located on deck 8, are 130 feet long, and part of a 360 degree open air promenade.  The space encompasses the entire ship and includes an array of restaurants and bars, reminiscent of an upscale oceanside boardwalk.  Elevators will also be glass with panoramic ocean views.
The entertainment spaces on MSC Seaside were designed to offer a wide variety of shows and performances with a new theatre and comedy club.  Other family entertainment include a full-size bowling alley and a 5D cinema that includes moving seats, special effects, and guest interaction with the movie.  Thrill-seekers will want to check out the ship's zip line, which will be the longest one at sea.  Taking off from the ship's funnel, guests will fly 425 feet across the ship to land at the aft.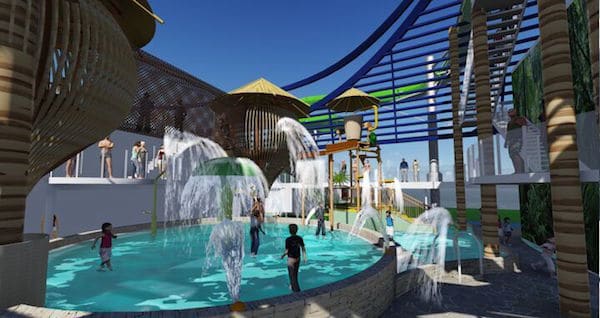 Another notable family-friendly feature of Seaside will be the most interactive aqua park at sea.  It will be the first ship to feature interactive Slideboarding technology, which basically combines a water slide and a video game into one fun-filled experience.  Guests can also enjoy two decks of activities, including multiple water slides and an adventure trail.
Staterooms
The accommodations aboard MSC Seaside will be able to meet the needs of a variety of guests, like families, groups, those that want private outdoor space, and guests who are looking for a lot of luxury.  The various types of staterooms will include:
14 aft corner suites designed in the style of a oceanside condo
terraced balcony staterooms – an industry first where part of the balcony is uncovered
open modular connected staterooms for large families or groups, up to 10 people
luxury suites with private two-person outdoor whirlpools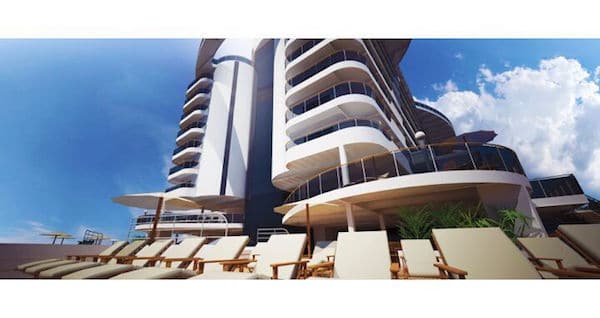 The MSC Yacht Club will offer a private solarium, lounge, and restaurant, as well as Royal Suites that include a private outdoor whirlpool.
Fine Dining
Dining is among the top priorities for MSC aboard Seaside, and it will offer one of the more extensive choices of indoor and outdoor restaurants at sea.  There will be featured cuisines from around the world, as well as 20 distinct bars across the ship.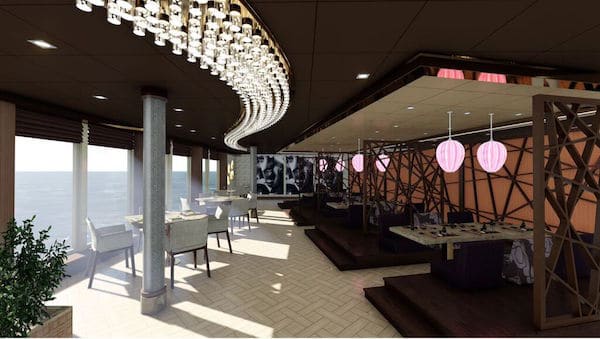 MSC Cruises recently partnered with Chef Roy Yamaguchi, and the chef has designed a specialty restaurant exclusive to MSC Seaside.  He will be a part of every design element of the restaurant, as well as overseeing all of the dishes on the menu.  The inviting space will feature four teppanyaki grills with talented chefs that will not only make the food delicious, but an entertainment experience in and of itself.  The restaurant will feature a range of Asian dishes including Thai, Korean, and traditional Japanese cuisine, as well as a sushi, sashimi, and raw bar that will have fresh oysters, lobster, prawns, and snow crab.  The venue will also include an a al carte menu with additional Asian options.
Other dining venues will include a luxury seafood restaurant with chef's table, an international steakhouse, and a family pizzeria.