Some people are scared to break away from the comfort of the mass market cruise lines such as Carnival, Royal Caribbean, and Norwegian. The fear of the unknown stops them from trying out something new. I recently set sail on MSC Divina for a four-night Caribbean cruise, and have compiled a list that highlighted the hits and misses that set this cruise apart from others.
Hits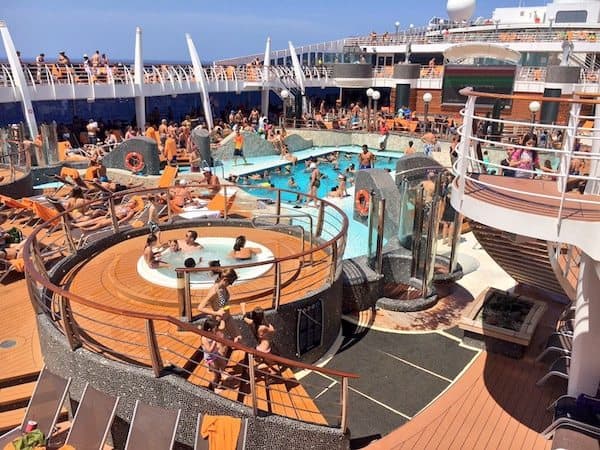 1. Bars everywhere
Lounges and bars were always in sight, so you never had to go far for a drink. Having many bars available meant less of a crowd and quicker service. Our biggest trouble was trying to choose one to meet up at before dinner.
2. Music Heavy
Music could be found all over the ship. Whether you wanted to spend your nights on the top deck, near the casino, in the plaza, or atrium, you name it and there was some type of musical entertainment going on. The best part is that there is a great variety in the music. I heard opera, acoustic guitar, Latin, and dance music all in one night.
3. Theater
Hands down this is one of the most gorgeous cruise theaters I have seen. It is a huge two-story theater with a layout that made it so that there wasn't a bad seat in the place. My favorite seat was actually on the first floor, center, last row, away from the crowds. I had a perfect view every night.
4. Entertainment
The shows were all amazing, and the variety kept things interesting. There were two shows that were more acrobatic and visually stimulating, another night featured a contestant from The Voice UK showcasing a variety of acoustic songs, and the cruise ended with the high energy dance moves and music of Michael Jackson. Each show ended with a roar of applause and standing ovation.
5. Coffee shops
My favorite spots were the coffee shops on this ship. The café that I could usually be found at was quieter than other areas on the ship, and resembled a cute little café in Europe. The specialty coffees were amazing. There was a whole menu of hot and cold coffees, spiked coffees, and frozen coffees. You can't go wrong with any of your selections.
6. Gelato
I often found myself skipping dessert in the dining rooms and heading to the gelato bars instead, and sometimes I just did double dessert because the gelato is that good. There were ten different flavors; I recommend the one that resembled chocolate chip. Gelato is $3 and change for a cup and is included in the drink packages.
7. Wine Blending
To my knowledge, MSC is one of the only two cruise lines that offer wine blending classes on board. For $45 you can enjoy an hour long class that features hands-on blending of four different red wines with the goal being to create the perfect bottle for your liking. The price includes a fun hour of sipping and a bottle of your wine delivered to your room labeled with your created name and vineyard.
8. Pizza
There are two areas to enjoy pizza on this ship. You can grab some pies in Eataly for a reasonable price, or you can go to the buffet. I was impressed with both. The pizza from the Eataly restaurant came fresh from the oven to the table with unique ingredients. The buffet pizza was also hot and fresh, one of the best pizzas I have had on a cruise buffet.
9. Variety of drink packages
There is a drink package for everyone on MSC. Whether you are just a coffee addict, prefer sodas, are a beer and wine drinker, or just a little bit of everything drinker, MSC has a package for you. You can buy your drink package online before your cruise or on board.
10. Embarkation/Debarkation
Getting on and off the ship was very fast! I was pleasantly surprised that from curb to ship it took 10 minutes. Getting off the ship, doing self-assist disembarkation, was about the same.
Misses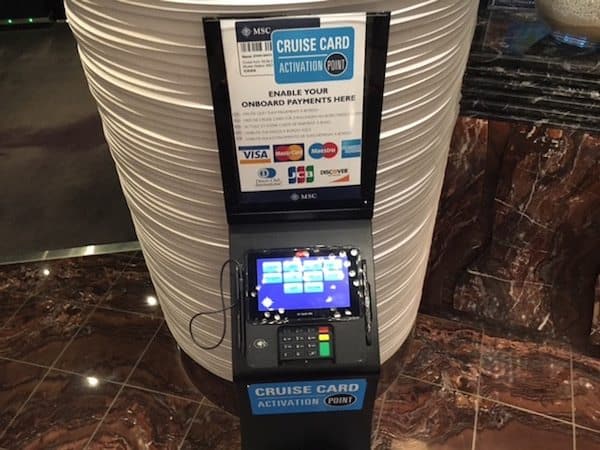 1. Service
There seems to be a disconnect between the staff and the guests. Maybe it's a language barrier or just a cultural difference. In addition, orders were often served wrong, sometimes cold, and were slower depending on the day.
2. On board spending account
You have three different options for your spending account:
You can either use credit, in which they will just charge your card automatically at the end
You can choose debit and it will automatically charge an amount to the card, or you can choose cash and just keep adding more when it runs out
Or set up a cash account
Credit is the easiest because you don't have to worry about anything. If you choose debit or cash, you have to close your account at the end of the cruise or they won't let you off the ship.
3. Eataly Steakhouse
If you read my blog, you already know my thoughts on the steakhouse. I was not impressed. I had high hopes knowing that the restaurant was a branch out from the Eataly in New York City but the hype faded quickly. To start off, the menu was a la carte and was on the pricey side. After seeing what was actually served and tasting the quality of meat, I would not recommend wasting money ($25) on the steak. I had better steak in the main dining room. It was unusually loud in the restaurant and the service was extremely slow. I know that it is not an uncommon thing for longer dinners in specialty venues, but 2.5 hours, not including dessert was, in my opinion, unnecessary.
4. Very Slow elevators
I'm extremely proud of myself because once again, I managed to suck it up and take the stairs the whole cruise. Although I planned on not using the elevators at all during the cruise, I did notice that there seemed to always be a crowd of people gathered around the areas. There were fewer elevators than other cruise ships and one passenger claimed the elevators were closing on people causing injuries. I wouldn't know though – it's all hearsay.
5. Food
Let me start off by saying that I do think the food has improved dramatically from my first experience on Divina back in 2013. However, they still have a ways to go. The menus were random and they and still featured many items that I had no clue how to pronounce with descriptions that did not sound appetizing. The food was not consistent; each meal was a gamble on whether or not the buffet was going to have to be hit up afterwards or not. If I wasn't with a group, I would have probably chosen the buffet over the dining room for most of my meals.