Today, we are docked in Cozumel for our only port day on this short, but sweet cruise.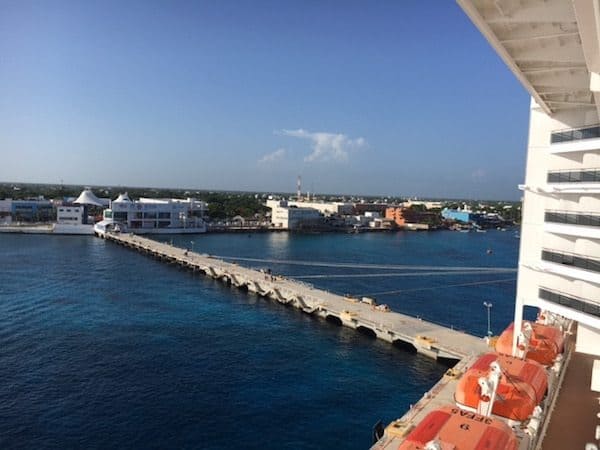 Breakfast
Since breakfast in the dining room wasn't the best experience yesterday, we decided to try out the buffet today. I guess everyone else had the same thing in mind because it was packed, and nothing looked good to me. I'm not a breakfast person, though, so that's my fault.
With time to spare before the excursion, we headed back down to the dining room. Things went a little more smoothly this morning. Orders were correct and food came out in a timely manner. I enjoyed my salmon and bagel with a cheese plate and side of bacon. I also had a chance to talk to a fabulous couple from southern Florida that love this ship. This is their fifth time on Divina. They were raving about the Michael Jackson show that will be on the last night of the cruise.
Chankanaab Beach Park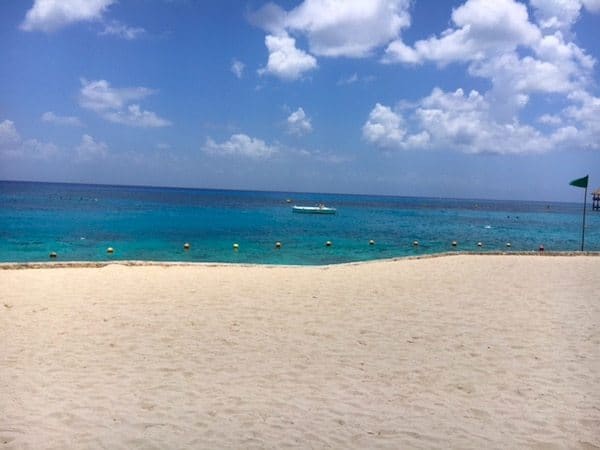 What better way to enjoy Cozumel than to have a beach day? A small group of us chose to spend our day at the beach to relax and try out some snorkeling in Chankanaab. We hopped into vans provided by the excursion company and after about a 10 minute drive, arrived at our location.
The tour guide had a schedule planned for the group that included snorkeling, a botanical garden tour, tequila tasting, and a sea lion show. But the sun and sand were hot so we decided to leave the group, find some loungers, and start our snorkeling adventure. The water was crystal clear, there were big fish that swam right up to you, and the best thing – the water wasn't freezing like the beaches in Florida.
We spent some time relaxing on the sand, and then we headed out. While leaving we caught the end of the sea lion show.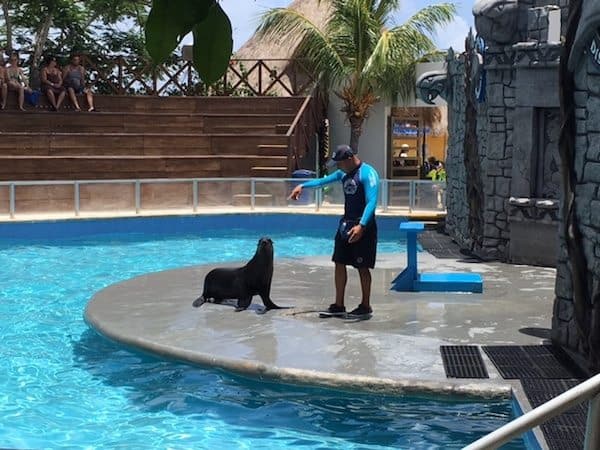 Margaritaville
We decided to check out Margaritaville for lunch and had a great experience. I went with a margarita and of course, the Cheeseburger in Paradise. The atmosphere was lively and staff was attentive and entertaining. We watched one of the waiters walk from one end of the restaurant to the other with six drinks balanced on his head. Talk about talent!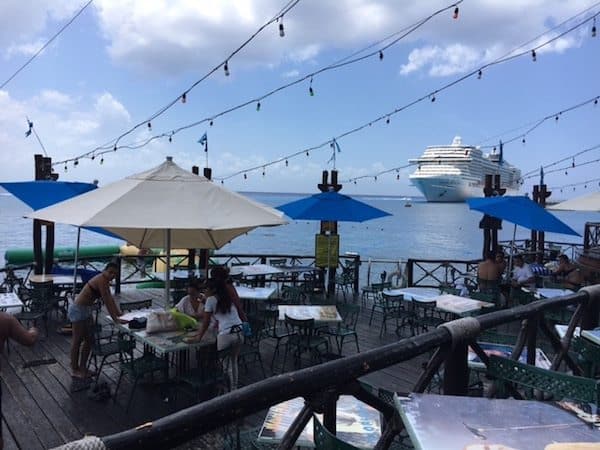 Margaritaville was a short distance from our pier so we were back onboard within 30 minutes of paying our tab.
Sail Away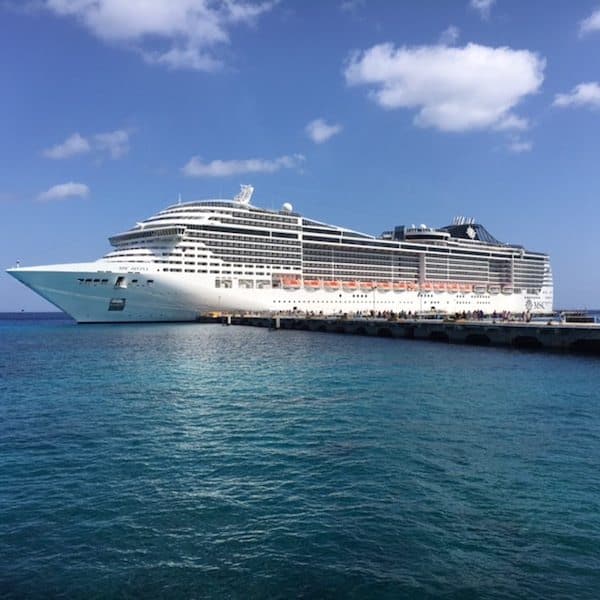 We left Cozumel late evening and I waved goodbye from my balcony. It's always so cool watching these giants slowly pull away from the dock!
Dinner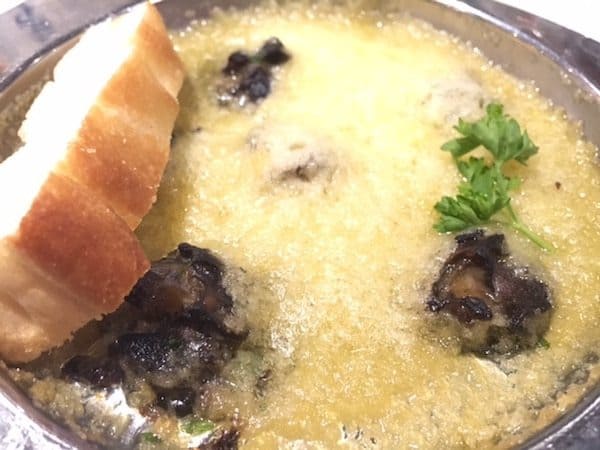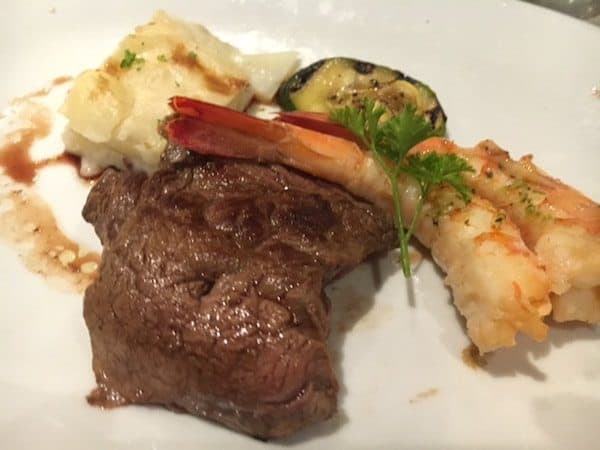 For dinner tonight, we headed back to the Black Crab dining room (main dining room). My favorite, escargot, was on the menu for an appetizer. I paired that up with a Caesar salad and surf and turf for my main course. Unlike last night in the Eataly Steak House, my steak was cooked as ordered and dinner went smoothly (our dinner servers rock!). Like yesterday, I skipped dessert again to head back to the gelato stand.
The Witches of Paris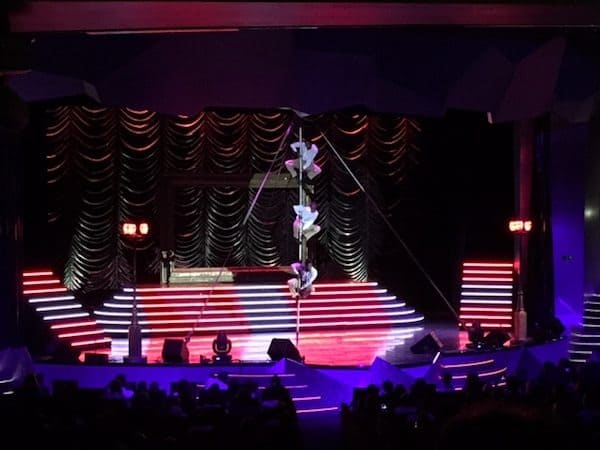 Tonight's show was talked up by one of my colleagues to be one of "the best shows at sea." It is a French-style show that featured a singing, dancing and some exceptional acrobatic acts. Although there is not a plot to the show, which I have been trying to understand, the talent of these performers is exceptional. After the can-can finale, the theater roared with applause and gave a standing ovation. I was tremendously impressed.
White Night Party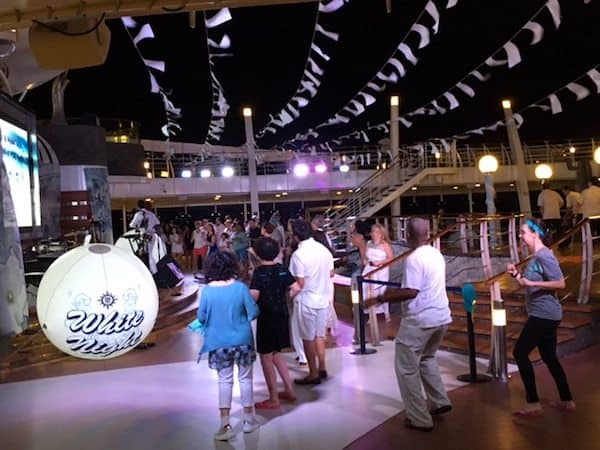 The top deck hosted a white night party, in which as the name suggested, guests wore white and danced under the stars to international music. Latin dance lessons were happening when we first arrived, and by the time we headed out, the band was in full swing as well as the guests on the dance floor.
Tomorrow is another day at sea and the last day of the cruise.
Question: How big are the balconies on MSC Divina compared to other lines?
Although I do not have exact measurements, compared to the ships that I have been on lately, the balconies seem a little bigger. There are two chairs and one ottoman. I can sit back on chair, put my feet on the ottoman and not touch the railing with my feet. That is a test I frequently use.
Check out our previous MSC Divina blogs:
Pin this!