Today, we had a sea day aboard MSC Divina, one of the two sea days that we'll have this cruise.
Let's get right to the first sea day.
Breakfast
Our first full day onboard was a sea day. First thing on the agenda for the day was a ship tour. Since I was up early and had some time to kill, I decided to try out breakfast in the main dining room as opposed to the usual quick grab-and-go on the buffet. The food was good, but the service was a little slow. I had a salmon and bagel with a side of bacon and coffee. There seemed to be a disconnect between the servers. A lot of breakfast items were forgotten, not brought out, or served cold.
Ship Tour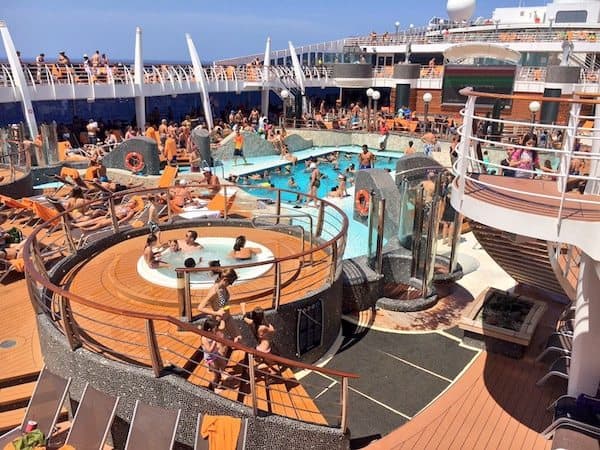 The ship tour started off in the atrium and covered all of the main areas of the ship that are accessible to all guests, except the Yacht Club. Hot spots on the tour included the dazzling theater, the many lounges, the casino, pool deck, and restaurants. One of the cool things they have on here is a Formula One simulator; we didn't get to go on it (yet) but got to check out someone using it. I'm going to give it a try after Cozumel.
Activate Sail and Sign Card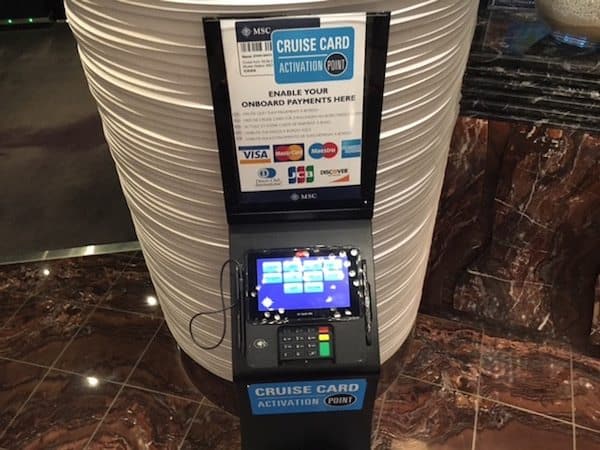 As mentioned on day one, boarding Divina was fast and pretty painless. One of the things that sped up the process was having guests wait until they were onboard to set up their card account at their convenience. Stationed near the service desks are kiosks to activate your card, and best part is it takes less than a minute to use. There was no line when I did mine.  You have until noon the next day after sailing. You can use a credit or debit card – if you use cash, you have to go to guest relations.
Pizza at Eataly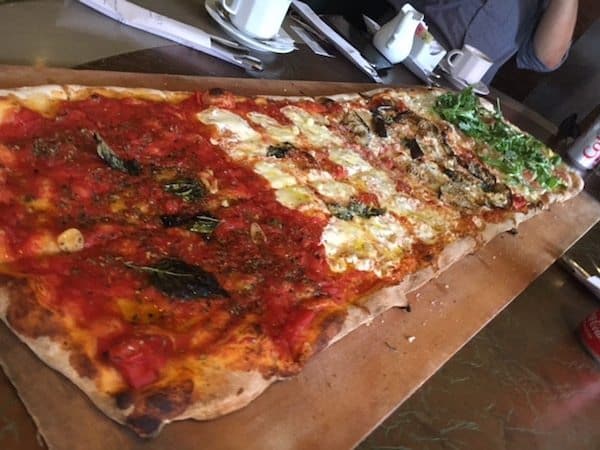 For lunch, we all decided to meet up and grab some pizzas from the Eataly restaurant. We were unsure of how many pizzas to order and what to choose from, but with a little bit of help from our waiter we were sold on the meter (three foot long!) pizza. This pizza not only looked incredible, but it also tasted amazing. The meter pizza was only $22 and was enough to feed 6 people. Picture a huge rectangle divided into 4 different types of pizza. We had prosciutto, marinara, eggplant, and, my favorite, margherita. After four or five pieces, I needed a nap.
Coffee Bars
The places I've grown fond of on board have been the coffee bars. You can get a lot of different types of Segafredo branded coffees. You name it, they pretty much have it: espresso, iced coffee, macchiato, cappuccino, café latte, frozen coffees, chocolate coffees, and spirit coffees. With the unlimited beverage package it makes it easier to get coffee when and where you want it.
Dinner at the Steakhouse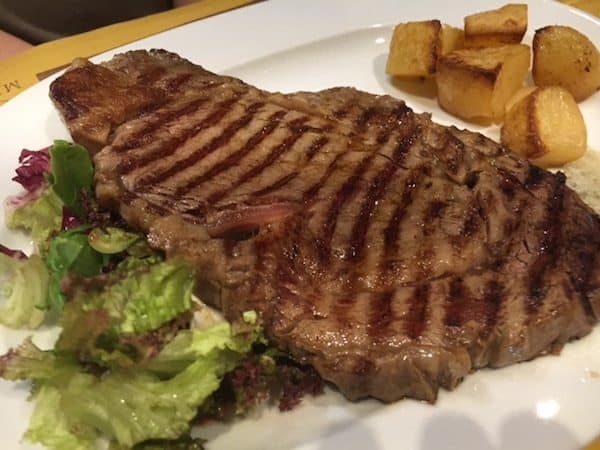 It only takes looking at me once to know that I love to eat, so when I heard there was an Eataly Steakhouse onboard, I had to go! With a name like Eataly (a huge marketplace/eatery in NYC), I was expecting to be wowed.. not so much. The caesar salad was fabulous; the pasta marinara was good, the steak was a little overcooked and average at best. To be honest, I've had better steak in the main dining room. In case you're wondering, this is an a la carte-type dining venue.
Now I know this experience is an event, but I can't do long meals. At the 2.5-hour point, I decided to tap out and head to get some gelato.
Gelato!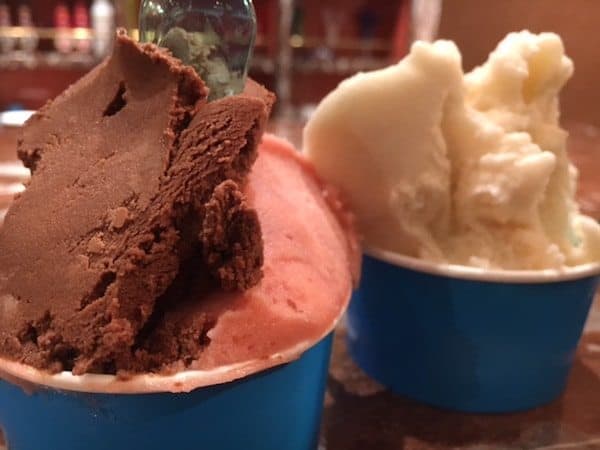 One of the perks of the unlimited beverage package on MSC Divina is unlimited trips to the Gelato bar. It usually runs around $3 a cup. All the gelato is made with fresh ingredients onboard and I haven't had a bad cup yet.
Entertainment Tonight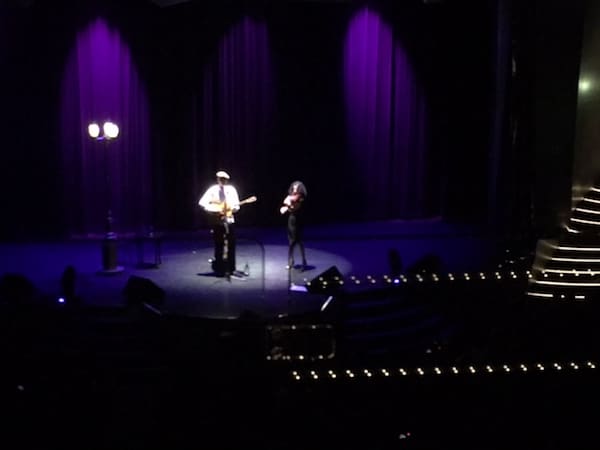 There was a special guest this evening onboard who was from The Voice UK in 2012. The artist, Murray Hockridge, was pretty talented and sang with just his acoustic guitar. For some songs, a violinist accompanied him on stage as well as dancers in the background. He got a standing ovation a few times. The acoustics were great in the theater, and the show was a nice change up from the typical cruise shows. Although MSC's visual entertainment is pretty solid.
Question: What does the Unlimited Drink Package consist of?
For $45 a day, the drink package includes sodas, bottled waters, specialty coffees, premium teas, energy drinks, wine by the glass up to $7.50, beer up to $5, and a selection of spirits and cocktails up to $8. Also included is ice cream and milk shakes. All people in the cabin must purchase the package.
Read other MSC Divina blogs:
Pin this!