Today is the last day of this four-night cruise aboard MSC Divina. It's a sea day, and we're headed back to Miami (boo!).
Breakfast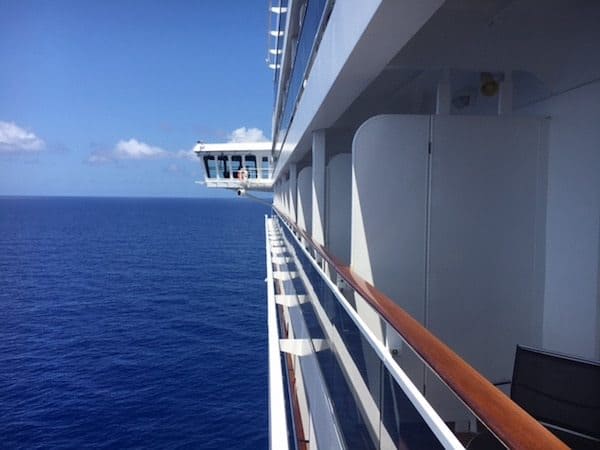 A good thing about breakfast on a sea day is people stay out late the night before, and you have the buffet to yourself. One interesting thing that caught my eye was a breakfast pizza that consisted of what looked to be normal pizza but had a fried egg on top. I wasn't feeling that adventurous though, so I tried out the french toast, pancakes, and waffles. Everything was fresh and fluffy. I was satisfied.
Interviews
We all got a chance to interview the cruise director Andre. He's been in the cruise industry for two decades, so its safe to say he's well-liked and knows what he is doing. You'll hear the interview in an upcoming episode of Cruise Radio.
Before lunch I spent some time back in my favorite spot to do some work and down some more specialty coffees from the coffee bar.
Lunch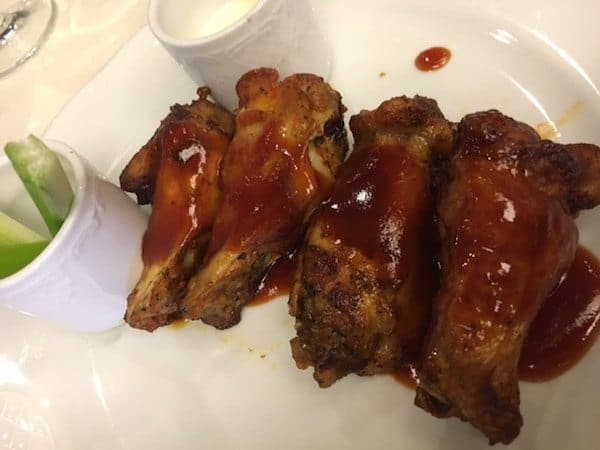 For lunch, we headed back to the main dining room. The menu was a little bit random for lunch, I started out with the chicken wings for an appetizer, and they were okay, no complaints. My salad that I ordered with Italian dressing came undressed and I didn't get the dressing until after I had finished my main course. Since nothing really caught my eye from the menu I just went for the steak again because it seemed like a safe option. Once again I ordered my steak medium rare and it came out well done. It didn't come with any sides, and dessert was skipped since we were late for our wine blending class.
Wine Blending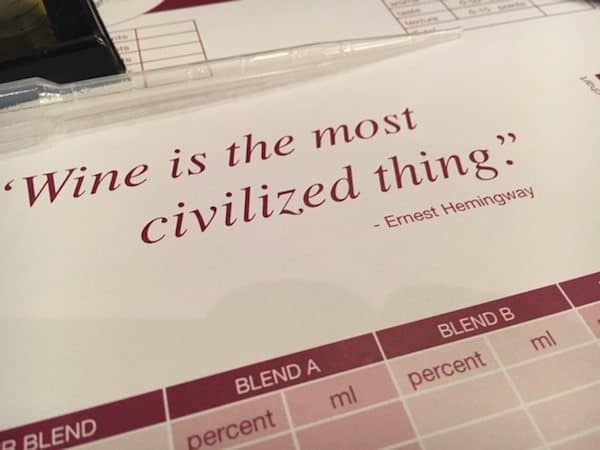 I have had the opportunity to attend a wine blending class on another ship before, so I wasn't as excited as some of the others. Not to mention – I'm not much of a wine drinker. The class was set up in the Eataly restaurant, and only had 10 of us so it was a nice intimate setting. Our wine master was Greg, who grew up on a vineyard in California, so he was easy to trust when it came to wine talk. I have to say I was pretty impressed with this class.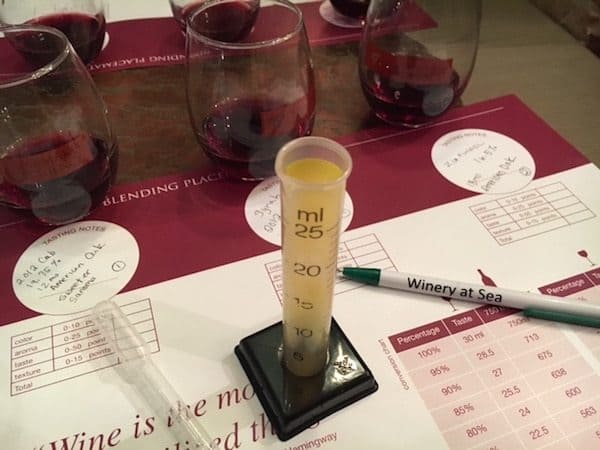 Greg was very generous on pouring the wine and at the end after you find your blend a bottle is made up for you and delivered to your state room. It was only $45, I would say if you're a wine fine person, this is a must-do on MSC Divina.
For the sake of comparison, Holland America offers the same type of class for $129 per person (although the classes seemed the same, I'm not educated on the difference of vineyards).
Exploring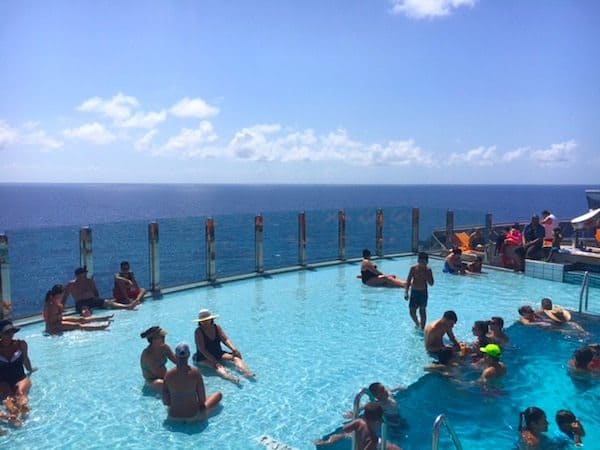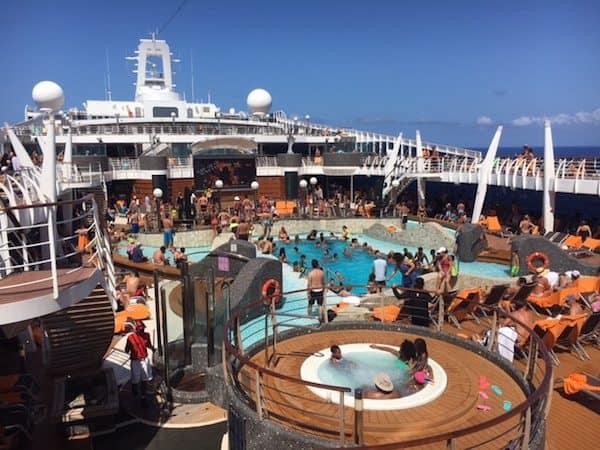 The rest of the afternoon was spent exploring the ship and capturing some photos. I finally got to check out the infinity pool. It was a beautiful day and everyone was up enjoying it. The ship's pools are larger than others, and are spread out enough to accommodate large amounts of people. I also noticed that there seemed to be plenty of deck chairs, which is always a problem on other ships.
 Pizza!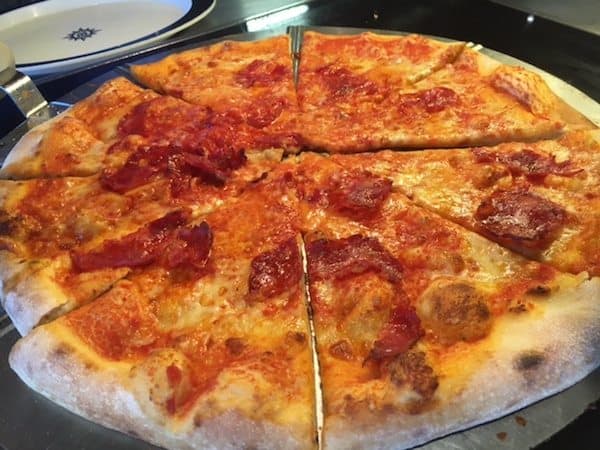 My next stop on my exploration was the pizza bar for an afternoon snack. MSC does it right with the pizza. There were 6 different pies that were set up; the cooks kept pumping them out of the brick oven. The pizza was hot and fresh and I ate way too much! There was no wait. I loved it!
Casino
Although this is the first time I have gambled this cruise, I do love the flow of the casino. Mostly because there is no smoking allowed. There is a large bar and a beautiful staircase that leads up to a lounge where live musicians seem to always be playing. I paid my dues in the slot machine and walked away.
Dinner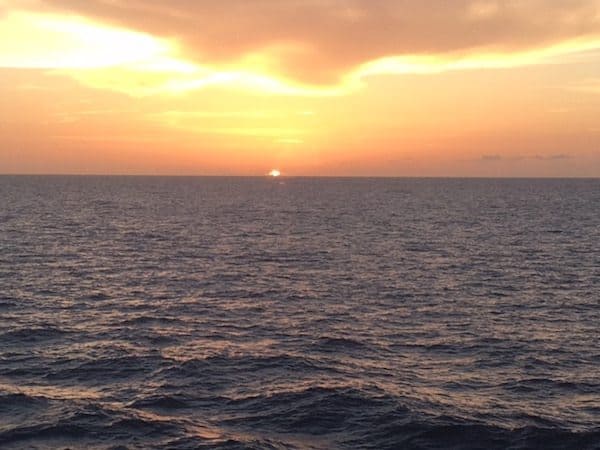 While heading to the main dining room, I noticed the sun was just about all the way down. It was a beautiful view, the first nice one we've seen this cruise because nights have been mostly cloudy. It set the mood for a nice relaxing dinner.
Once again, I wasn't really into the menu choices at first glance. I even attempted to look at the gluten free menu. I went with a caesar salad and penne pasta for starters and steak for one last time. The salad was consistently good, pasta was a little plain but not bad, and the steak was the best I've had the whole cruise. It was a sirloin and although it still was a little overcooked for my liking, it still had flavor and was enjoyable.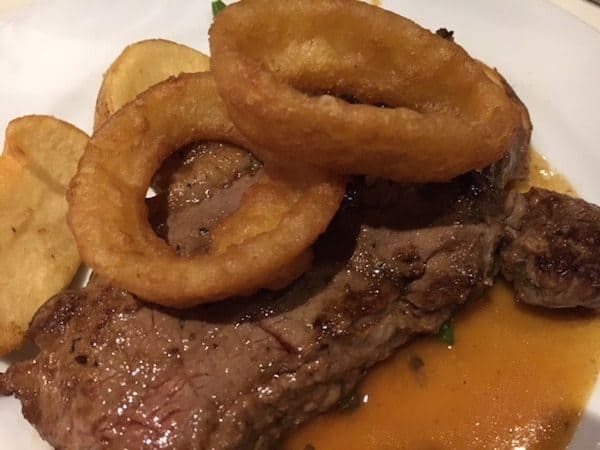 We stayed for dessert tonight instead of gelato. I tried a berry crème Brule with caramel topping; it was right up my alley. Great finish to dinner.
Michael Jackson Show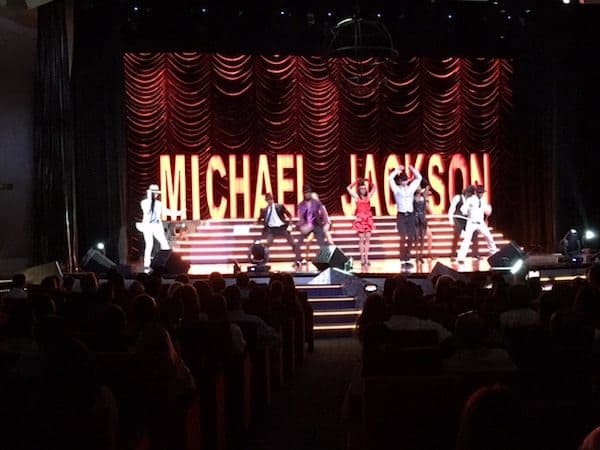 The farewell show of the cruise was a tribute to Michael Jackson. It showcased some of his most popular songs accompanied by amazing dance moves and, of course, spectacular lighting and stage effects. The lead performer who played Michael needed to work on his lip-syncing skills, but his dance moves made up for it! He has mastered the moonwalk and his energy was nonstop. All of the performers, as well as the cruise director came on stage at the end to bid their final farewell. Great show to see if you are a Michael Jackson fan, or just a fan of some incredible dance moves.
Alarm is set for 5:45 AM, so I headed back to the room to pack up and get some sleep.
Question:
You have been talking about the Gelato bar a lot. How good is it and how does it compare to other ship's ice cream options?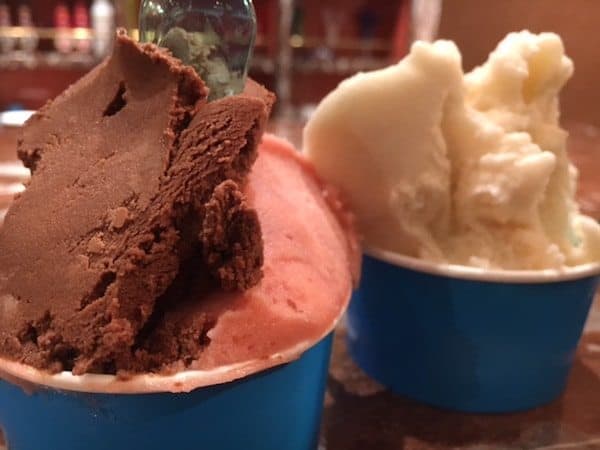 If you have been reading my blog, it's no surprise that I have hit up the gelato stand numerous times on this short cruise. It is awesome and best part is that if you have the inclusive drink package, gelato is included. There are over ten flavors and they are generous with their portions. My favorite flavor was something that I could not pronounce or even remember the name of but told that it was chocolate chip. A must-try on this ship. A cup averaged around $4.
Check out our previous MSC Divina blogs:
Pin this!