MSC Cruises decided to take part in one of the biggest New Year's Eve parties in the world last week in Rio de Janeiro.  The Switzerland-based cruise line docked four of its ships at Copacabana Beach for a beautiful view of a dazzling fireworks display.
Guests aboard MSC Lirica, Splendida, Poesia, and Armonia were treated with a front row view of the 16-minute fireworks display, launched from 11 anchored barges off the coast.  According to Brazilian tourism officials, more than 24 tons of fireworks were launched – talk about a show!  Guests aboard the ships were treated to special New Year's Eve dinners and a night of partying, before a special New Year's Day breakfast in the morning.  That is, if anyone was awake and conscious enough to attend it!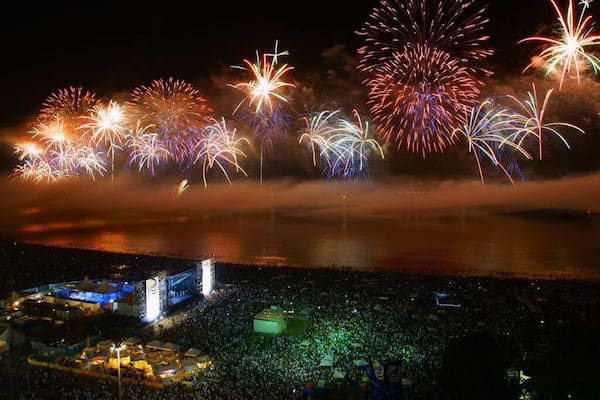 On her first South American sailing, MSC Splendida arrived from Santos to Salvador in Bahia, one of the oldest colonial cities in the Americas.  Before reaching Copacabana, guests were able to visit Buzios, a spot known for its natural elements.  MSC Lirica sailed from Rio to Salvador, then to Cabo Frio before coming back to Copacabana for the New Year's festivities.  The final call was in Ubatuba, one of Sao Paulo's most well-known beaches.
MSC Armonia, the sister ship of Lirica, left Santos heading for Porto Belo.  After the New Year's celebrations in Rio, she sailed to Ilhabela, an island famous for scuba and free diving.  The Armonia is the first MSC ship to undergo the four ships' $217 million Renaissance expansion project.  MSC Poesia arrived in Rio from Buenos Aires, and guests aboard the sailing also got to visit Ilha Grande and Ilhabela, as well as romantic Punta del Este in Uruguay.