MSC Cruises celebrated the return of MSC Divina back to Miami Wednesday night by hosting a special Veterans Day #SeaSideSalute event honoring the men and women of our armed forces.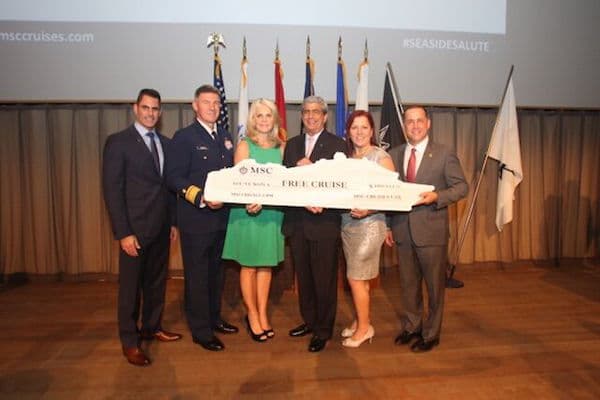 During the event, MSC presented the "2015 MSC Sea Side Salute Award" to companies and people making a difference in the lives of veterans in the areas of family, community activism, and small business opportunities. Honorees included:
The Torres Family: for providing outstanding community military service and outreach – Sgt. Anthony Torres and his family are enriching the lives of fellow service members by being involved with the Wounded Warrior Project, Mission Continues Platoon in south Florida, and "Combat Hippies."
Cruise Planners and CruiseOne/Cruises Incorporated: for providing outstanding small business opportunities to veterans – Travel agencies that provide franchising opportunities and incentive programs that allow military veterans and their spouses to become business owners.
Jonathan Davidson: for providing outstanding community leadership and mentorship – Jonathan is the Mentor Coordinator for Mission United, where he serves as a mentor for veterans, helping them achieve their personal and professional goals as they transition to civilian life.  He spent 25 years in marketing and advertising before he decided to change careers to find something more authentic and meaningful, leading him to Mission United.
As part of the Sea Side Salute event, following the presentation of honorees, guests watched MSC Divina sail away on her first sailing since returning to the US.  The night included giveaways, fireworks, and a cake cutting with a sword per military tradition.  Guests aboard the ship were also involved as they were invited to the top deck for a sailaway party that included patriotic party favors, including flags and red, white, and blue glow sticks.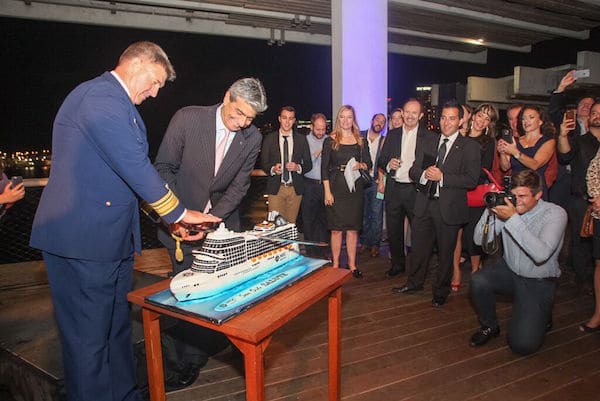 Special guests attending the event included US Coast Guard Rear Admiral Karl Schultz, Director of Operations for the US Southern Command, and Mayor of Miami Beach Philip Levine.
Photos courtesy of MSC Cruises.