MSC Cruises has been a busy bee with new destinations recently!  They just announced the first details of yet another island destination, the Sir Bani Yas Island beach oasis which is located off the coast of Abu Dhabi, United Arab Emirates.
The 1.5 mile stretch of land on the natural island of Sir Bani Yas has been transformed into a oasis destination, just for MSC guests.  Starting in December of this year, MSC Fantasia will add the new destination to its winter cruises in the Dubai and Abu Dhabi region, and guests will be able to spend a full day there.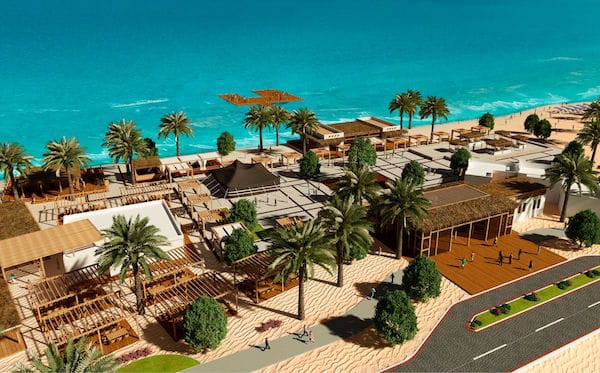 The cruise line has been working on perfecting the destination with the Abu Dhabi Ports Authority for over two years.  The beach is on a smaller island, which is connected to the main island via a wooden boardwalk.  It features all you could want in a beach vacation – hundreds of palm trees, over 2,000 sunbeds, and shaded cabanas.
Other key facilities include:
a private space for MSC Yacht Club guests with finger food and drinks
an MSC Aurea Spa area with a menu of massages from beachside cabanas with sea views.  Treatments will include the Aurea Del Mare massage with seashells, bamboo massage therapy, and a range of Bali massages.
sports facilities include beach volleyball and tennis
a family and kid's area with a parents' pergola
a bedouin tent offering local arts and crafts
a lounge space with a bar and live music
MSC's beach oasis will offer something for everyone.  From natural sunbathing spots to walking trails, and more action-packed activities such as mountain biking, football, snorkeling, kayaking, and more.  When it comes to cuisine, the cruise line hasn't overlooked this aspect of the destination either.  Guests will be able to enjoy a variety of fresh and authentic food options, with offerings such as regional and international favorites, beachside BBQs, and exotic cocktails from one of the six beach bars.  Ship food and drink services, such as drink packages, extend onto the island as well – so the fun never ends.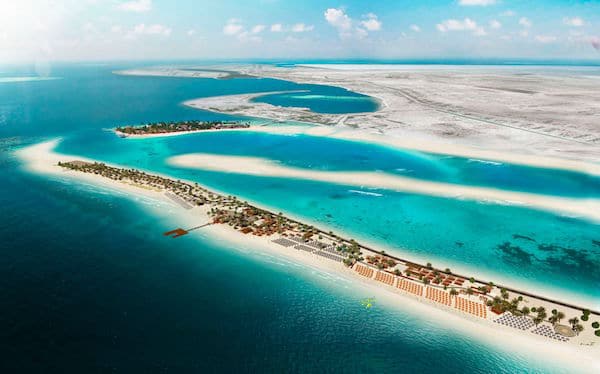 Sir Bani Yas island is one of the region's largest wildlife reserves, and the Arabian Wildlife Park on the main island is home to over 13,000 animals, as well as millions of trees and plants.  MSC Cruises has worked closely with the port authorities and ecologists to develop the destination fully in line with the broader island project, and support the ongoing preservation work.
Guests at MSC's beach will have direct access to the reserve, with a range of special excursions allowing guests to take in the natural beauty.  These include horseback riding, a safari-style nature drive, and a Dhow tour around the island in a traditional powered boat, giving guests the opportunity to see giraffes, hyenas, and cheetahs in their natural habitat.  For guests that want to learn about the history and culture of the island, a tour to the ruins of an early Christian monastery site from 6th century AD will be available.
Cruises to the Dubai, Abu Dhabi, and Sir Bani Yas region will range from 7 to 14 nights.  Guests can embark from Dubai or Abu Dhabi, and visit Sir Bani Yas Island, Bahrain, Doha, Khasab, Khor Fakkan, and Muscat.  The first cruise to call at the new destination will depart on December 3, 2016.
photos: MSC Cruises