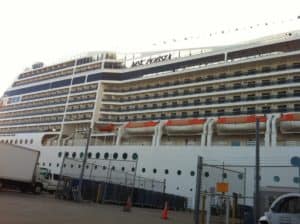 I always hate these days because the mornings seem so rushed, this morning especially. All week they've been telling us that we need to vacate our cabin on the last day by 7:30am so they can start preparing for the next voyage, and they weren't lying!
At 6:30am the loud speaker came on and it was the assistant Cruise Director, Tyler. Tyler told us that we needed to start getting our belongings and heading to our departure lounges. At that point in the morning I still had some running around to do, like bring my internet cable back to guest services and stop by the accounting desk. So I was out the door by 6:50 and at the accounting desk. After the accounting desk I went to the other side of the ship and stopped by guest relations to turn in my internet cord (the charge your account $15 as a deposit to use the cord).
Earlier in the week they had an early embarkation form where you'd get a Zone 1 bag tag if you wanted to leave early, I did. By the time I made my way to do the door to leave the ship they were already calling Zone 2. At this point I noticed I didn't have my iPhone. Frantically retracing my steps I realized that my iPhone maybe in my room. I ran back up the stairs to find my phone under my bed (how it got there I haven't a clue).
Once back downstairs I noticed disembarkation was going very slow. Like maybe moving a couple feet every 5-minutes. Turns out a lady feel down the escalator pier-side and fire rescue had to come and stabilize her. Everyone who was coming off the ship had to take the one elevator that the terminal had (that's over 2,000-passengers). Luckily, about 30-minutes later the rescue cleared the woman off the escalator, put her on a stretcher, and carried her away (I hope she's okay).
The customs line was very short and easy and before you know it we were on the pier. Once I got to the pier I called the Ramada Inn Airport/Cruiseport hotel to come pick me up. Now to be honest, I thought this was going to be a cluster in itself but I called the front desk, told them my name, what ship I was coming off of, and in 15-minutes they were there taking me back to the hotel to pick up my truck.
Overall I was very pleased with MSC Poesia this year and feel confident recommending this cruise to friends and family members. Thanks so much for following along on this journey. Now to enjoy Christmas.
Be sure to sign-up for our Daily Updates here.
Happy Holidays!