MSC Cruises has revealed additional details on their two exclusive Cirque du Soleil at Sea shows that will be performed aboard the fleet's new flagship, MSC Meraviglia.  The world leader in artistic entertainment will create a total of eight original shows for the line's Meraviglia-generation ships, coming into service between June 2017 and fall 2020.
Two Shows
Cirque du Soleil set out to create two very different shows with unique concepts, ambiance, storyline, and costuming.  With two performances each night, six days a week, guests will easily have the chance to see both.
Viaggio, the first show, is the story of a passionate and eccentric artist who hears the call of his Faceless Muse.  Mysterious and seductive, she beckons him into the vivid world of his imagination to finish his masterpiece.  With each stroke of his paintbrush, electrifying colors fill the space with unique motifs and rich textures.  Before the audience's eyes, majestic acts transform the theater into a living canvas.
With sound at its heart, Sonor takes guests on an auditory adventure with dancers, acrobats, and characters all moving to the rhythm.  Conjuring different sensations, sounds, bold music, and immersive projections, Sonor culminates in a grand finale for the senses.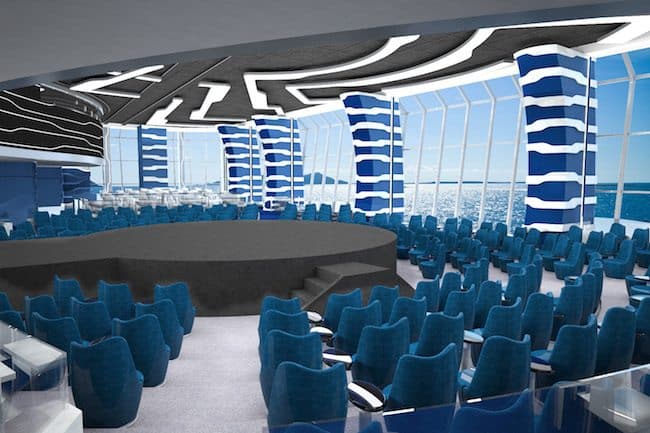 Cocktails & Dinner
No detail will be left unattended with the dinner experience, where every aspect of the space and meal have been specially designed to complement each pre-show experience.  Starting one hour before showtime, the experience will be a treat for the senses with surprise animation from performers, live music, and stylish table settings with a menu of eclectic dishes.
For the dining experience for Sonor, guests will be invited into a parallel world where culinary creations will trick both the eye and the senses.  Viaggio will immerse guests in a universe of color, testing guests' imaginations from beginning to end.
Other guests can enjoy a Cocktail & Show experience that begins 30 minutes before showtime and includes a specially designed drink and other tempting treats.
Cirque du Soleil at Sea needs to be pre-booked either before the cruise or once onboard.  The theater is limited to 413 seats, so be sure to book early to secure a spot.
For more on MSC Cruises' Cirque shows, click here.