Today in the port of Trieste, MSC Cruises celebrated the entering into service of MSC Seaside, the line's new flagship, as she prepares to cross the Atlantic for Miami. MSC Seaside is the company's 14th ship and the second to enter service this year.
The vessel is a brand-new prototype, designed to bring guests closer to the sea than ever before. Seaside boasts generous outdoor public spaces so that guests can make the most of the sunshine and enjoy the outdoors. The design was inspired by a Miami beach condo, and the ship will offer world-class entertainment, new dining concepts, engaging facilities for families, and MSC Cruises' luxury offering, the MSC Yacht Club.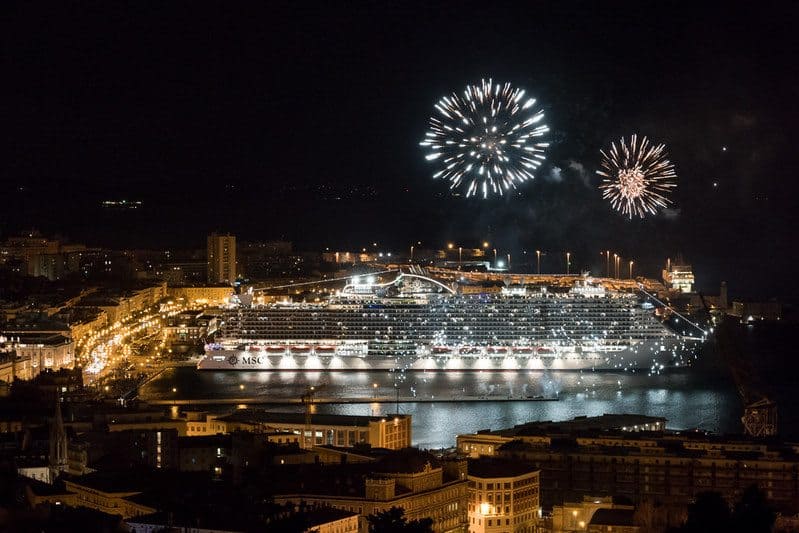 Highlights include:
Unique Design
Inspired by the beach condos that made Miami famous, MSC Seaside has a number of innovative design features that make this a very unique ship. Two unique glass-floored catwalks and a 131 foot high "Bridge of Sighs" give guests an excellent view of the ocean. A waterfront boardwalk with panoramic elevators  connect everything together.
Accommodations
Developed to provide the perfect accommodation for every type of guest, the ship offers flexible modular staterooms for groups of up to ten guests, aft corner suites with stunning sea views, terraced balcony staterooms with extended terraces overlooking the boardwalk, and suites with their own outdoor whirlpools.
Varied Entertainment
MSC Seaside doesn't just feature a full-sized bowling alley, XD cinema, and the longest zip line at sea, but also the most interactive aqua park at sea with five attractions: the first cruise Slideboarding attraction, 525 foot long dueling body slides, and two spray areas for kids.
Extensive Dining Options
MSC Seaside will offer an extensive choice of indoor and outdoor dining venues. One highlight is Asian Market Kitchen from renowned Pan-Asian chef Roy Yamaguchi. Other highlights include a luxury seafood restaurant, Ocean Cay; an American-style steakhouse, the Butcher's Cut; and a new French bistro, La Bohème.
Fun for Families
The ship features brand new entertainment, on top of everything families have come to expect from MSC Cruises. As well as all-day entertainment and six dedicated areas for babies and kids, guests can also enjoy the new DOREMI Family Cinema and a new buzzer game.
MSC Seaside will depart Trieste on December 1, making a 21-day transatlantic crossing and arriving in PortMiami on December 21. That evening, the new flagship will be officially named in a glittering ceremony, with godmother Sophia Loren playing the leading role.