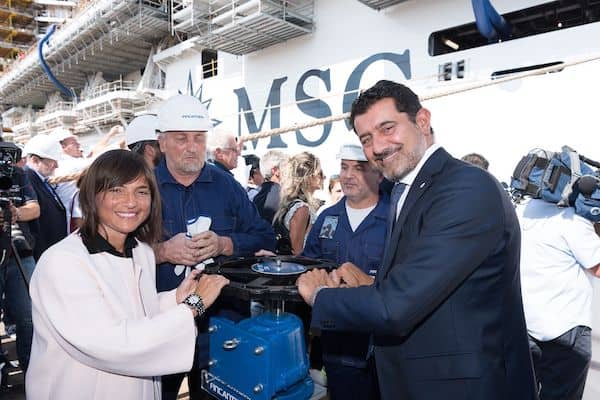 MSC Cruises and Fincantieri shipyard celebrated the float out today of one of the line's newest upcoming ships, MSC Seaview.  The ceremony was held at the Monfalcone shipyard in Italy, and officially marked the first time that the vessel has touched water.
As the second of MSC's Seaside generation of ships, Seaview has been specifically designed for warmer climates, and to bring guests closer to the sea than ever before.  She will enter service in June 2018, just six months after the debut of sister ship MSC Seaside in Miami.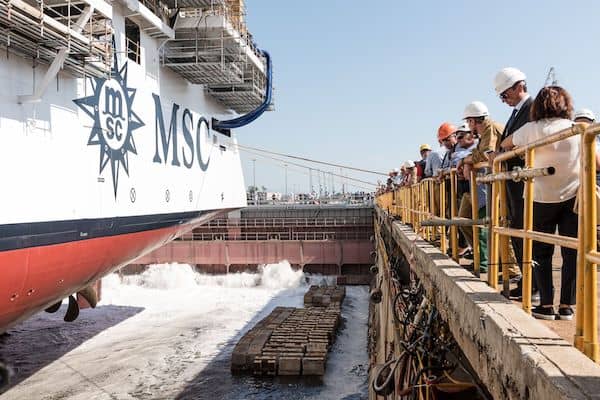 MSC Seaview will sail her inaugural season in the Mediterranean.  Travelers onboard the ship will be able to enjoy seven ports from four different countries: Genoa, Naples, Messina, Valetta, Barcelona, and Marseille.  Following her inaugural season, the vessel will "follow the sun" to Brazil and the Southern Hemisphere for the winter 2018-2019 season, with ports of call in Santos, Ilha Grande, Buzios, Porto Belo, and Camboriu.
The float out is a key construction milestone, marking the completion of the ship's exterior.  The dry dock is flooded and the ship meets water for the first time before being moved to a wet dock.  For the final phase of construction, work begins to complete the interiors, fixtures, and furnishings.
MSC Seaview will be identical to Seaside, holding 5,179 guests and weighing in at 154,000 gross tons.
Photos: MSC Cruises