MSC Cruises took delivery today of its newest ship, MSC Virtuosa, during a private flag ceremony held at the Chantiers de l'Atlantique shipyard in Saint Nazaire, France.
During the small ceremony between the shipyard and the cruise line, MSC Virtuosa received her official flag and blessings for good fortune. The ceremony was attended in person by MSC executive chairman Pierfrancesco Vago, his wife Alexa Aponte-Vago, and their children as well as representatives from the line's new builds team and executives and workers from the shipyard.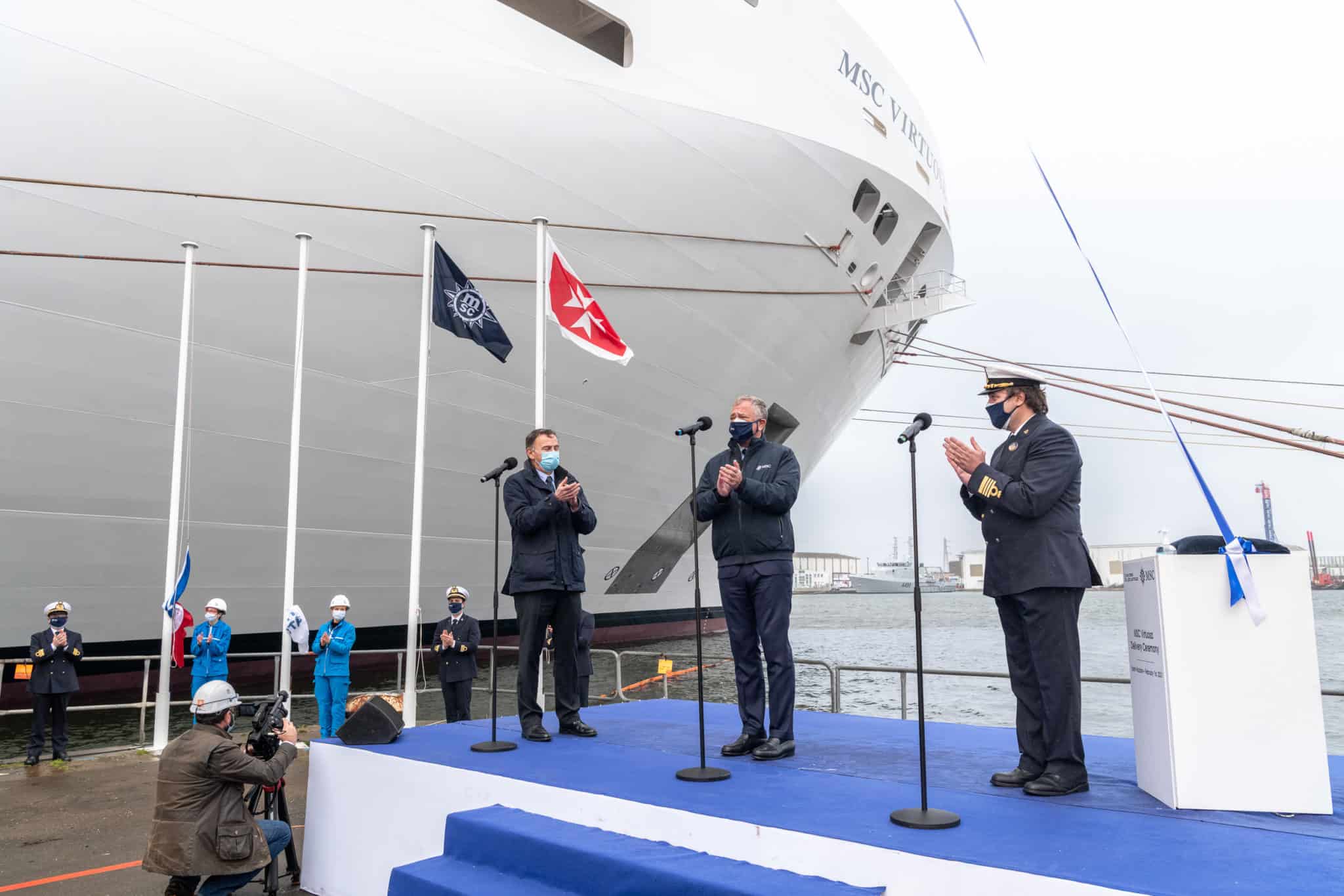 "My family and I could not miss this opportunity to welcome in person the newest member to our fleet. The delivery of MSC Virtuosa at such a challenging time for our industry symbolizes how as a family company we continue to look at the longer term and build our future," Vago remarked.
"In doing so, we remain committed to building each time some of the most innovative ships in the world when it comes to their environmental performance, featuring nothing but the most advanced available technology at sea. Just as importantly, with each new ship we continue to push boundaries and innovate our product, offering new and unique experiences for our guests."
READ MORE: The Pros and Cons of Booking One of the First Cruise Ships to Sail
MSC Virtuosa has some of the most advanced environmental technology currently available, including hybrid exhaust gas cleaning systems, wastewater treatment systems, shore-to-ship power connectivity, and an underwater radiated noise management system that minimize the potential acoustic sound impact on marine life.
In addition, MSC Virtuosa is the first cruise ship in the world to receive a BIORISK notation from Bureau Veritas in recognition of its ability to mitigate and manage infectious disease risk for passengers.
Virtuosa is scheduled to enter service in time for the summer season on April 16, 2021. She will operate four Mediterranean cruises before moving to her new homeport of Kiel, Germany, to commence her Northern Europe itineraries starting on May 8, 2021.
MSC Virtuosa is the sister ship of MSC Grandiosa, which was the first vessel of any major cruise line to return to sea this past summer, successfully hosting to-date nearly 40,000 guests under the protection of MSC's health and safety protocol. The ship is currently operating seven-night western Mediterranean voyages.
MORE: Europe-Based MSC Cruises Plans Cruising's Biggest Expansion